Posted on
Sun, Oct 14, 2012 : 2:30 p.m.
Haab's: Long-time Ypsilanti restaurant evolves while maintaining tradition
By Katrease Stafford
Haab's Restaurant in downtown Ypsilanti traces its roots back to the mid-1870s and throughout the years the business has continued to evolve in order to stay relevant.
"A lot has changed over time," said co-owner Dave Kabat. "It's been a tradition in the Ypsilanti area for a lot of people for a long time. We've just tried to hold on to that tradition as long as we've been here."
What is now known as Haab's was once a saloon in the mid 1870s through the early 1900s. In 1933, brothers Oscar and Otto Haab opened The Haab Brothers' Cafe and took the business in a different direction by focusing on food. Mike Kabat, Dave's father, and retired partner Harvey Glaze bought Haab's in 1976.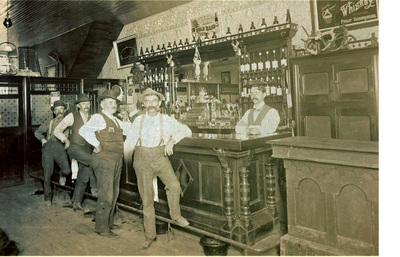 Courtesy Haab's
"It was just a single storefront and now it's a total of three storefronts," Kabat said.
The deep-rooted tradition originally caused Mike Kabat to hesitate in buying the business. He worried a change in ownership potentially could turn away customers.
Years later, the exact opposite thing has occurred.
On weekdays, the business averages about 200 customers a day, and on the weekends that number increases to more than 300. Kabat credits that in part to keeping costs down, while still providing fresh products and more menu options for customers.
"I think you listen to what your customers needs are and you evolve with their wants," Kabat said. "People are really looking for more value. The community has supported us for a lot of years."
Haab's, located at 18 W. Michigan Ave., has developed a following of customers ranging from college students who frequent Happy Hour to families who come in for Sunday dinner.
"You see a lot of familiar faces and it's a different dynamic for weeks and weekends," he said. "We see a lot of people that work downtown and on weekends you see a lot people that are traveling from further destinations."
What's also changed for the business is the number of employees, which has grown over time to include between 40 and 50 individuals.
"We've had to increase the number of employees that work here just to keep up with the level of business that we do," Kabat said.
Noticeably missing this year will be the annual anniversary tradition with meals at 1934 prices.
"We're bringing that back in 2014 for our 80th year," Kabat said. "For years we did that and rolled back the prices in trying to thank our customers. It got to the point that it was so big we wouldn't see any of our customers because it was too long of a line."
At it's busiest, Haab's served more than 2,000 people on one day with lines wrapped around the corner.
"We're reshaping the anniversary and we're going to bring it back but it's still in the design phase," he said. "It's a cool thing to do but we thought it was time to do something different."
Kabat, who recently was appointed to the Downtown Development Authority Board, has seen a number of businesses open and close in the area, but he also has seen many new businesses that are now prospering.
"It's a great place because you have a lot of young, innovative, creative minds that are putting together business plans," Kabat said. "A lot of unique and creative businesses open because of that. For years parking was never a problem in Ypsilanti and now you're seeing a lot more traffic."
Kabat said the uniqueness of Ypsilanti is what makes people want to visit the various businesses.
"It's the support of the community that keeps it that way," he said. "You don't see the chains or Starbucks on every corner. You see a lot of individual businesses. That's a real drawing point. I've been here 25 years and this is probably the most exciting time I've seen downtown with the resurgence of businesses."
Katrease Stafford covers Ypsilanti for AnnArbor.com.Reach her at katreasestafford@annarbor.com or 734-623-2548 and follow her on twitter.