Posted on
Fri, Feb 15, 2013 : 5:57 a.m.
Habitat For Humanity home for veteran nears completion
By Tom Perkins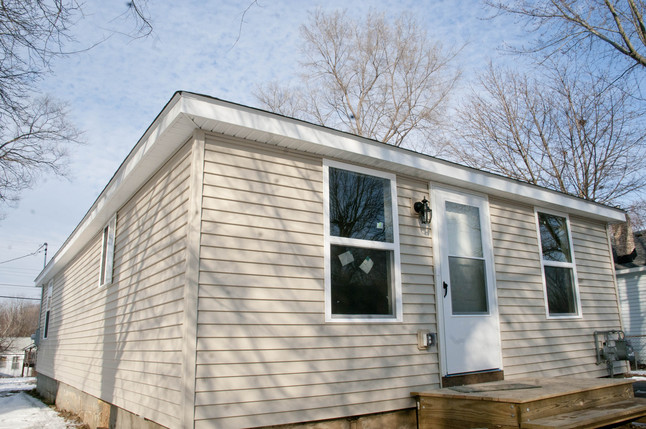 Veteran Jerry Wilbur will soon move into a renovated Ypsilanti Township home.
More than 30 years ago, Jerry Wilbur jumped out of an airplane during sniper training and got caught in a strong wind that blew him off course.
Wilbur, along with many others, missed his landing spot and the hard land broke his lower back. He was honorably discharged due to his injuries, and afterward he set forth on building a new life.
Before the accident, Wilbur worked as a welder, welding metal atop skyscrapers. But the injury left him to work with his brain instead of his hands, so he earned a degree in computer science and started his own repair company.
The Ypsilanti native built a successful business in Indianapolis and owned a home, but, in 2007, his health problems caught up with him.
Aside from issues related to his back, Wilbur, 55, suffered a heart attack, and he has been unable to work since. He recently has drifted between homelessness, staying with his parents and staying in section 8 apartments through the Veterans Affairs' homeless assistance program.
Now, with the assistance of Habitat For Humanity of Huron Valley, Wilbur will once again be able to own a home, which he and Habitat are completing renovations on in the coming week. There will be a dedication of the home, at 1115 Parkwood Ave., on Saturday.
Wilbur says he is thrilled to once again be a homeowner in a good neighborhood.
"I'm looking forward to having something I can stand back and look at - something I've done," he said. "In the yard, in the house; I can do what I want to do and stand back and appreciate it."
Wilbur is the first veteran in Habitat For Humanity of Huron Valley's veterans' housing program.
Through the program, Wilbur will receive a 0 percent interest loan. In return, he must put down a $500 down payment, put in 200 hours of sweat equity on his and other Habitat homes and take a variety of classes offering assistance in the different aspects of homeownership.
Wilbur said he is grateful for the 0 percent interest loan that likely will save him around $27,000, and he estimated logging more than 350 hours in working on his and others' homes.
Wilbur and Habitat have been working on the home since May, and another Habitat home across the street from his also is being renovated. On a recent weekend, UAW auto workers and Ypsilanti Township officials and employees came out to help expedite the renovation.
Renovating homes in Ypsilanti Township makes more sense than building new houses because there are so many foreclosed properties on the market, a Habitat employee said.
Though Wilbur is the first veteran to work with Habitat, they expect the program will continue and expand.
"We are growing our veterans program," said Habitat development director Margaret Porter. "It's something that's on going to serve those who have served, and it has been great to start it with Jerry."
Wilbur said he is grateful for Habitat and he feels the agency "is doing me a real big favor." He said it was by chance that he got involved with Habitat through the VA homeless program.
"The only thing I can say is that God helped me along," Wilbur said. "I don't really understand why me, but I'm glad it was me."