Posted on
Wed, Oct 24, 2012 : 6:34 p.m.
Hearing delayed one week for man accused in robbery, shooting
By Kyle Feldscher
The Ypsilanti man implicated in a July 10 incident where a man was shot and another man was hit by a car will return to court next week.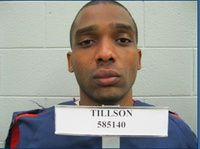 Courtesy of the state of Michigan
Christopher Tillison, 25, was in the Washtenaw County Trial Court Tuesday for a pretrial hearing. Erika Julien, his attorney, said new information about the incident had been discovered recently and she'd like another week to look it over and discuss the case with Washtenaw County Assistant Prosecutor Blaine Longsworth.
Tillison will return to court at 1:30 p.m. Oct. 30 for another pretrial hearing.
He's accused of being involved with the July 10 shooting in the 300 block of Bedford Drive where two men ended up in the hospital — one with a gunshot wound to the knee and another man who was hit by a car.
The man who was hit by a car drove the man who was shot to St. Joseph Mercy Hospital before returning to his apartment. Police responded there and Huron Valley Ambulance personnel took him to St. Joe's as well.
Tillison allegedly shot the man inside the apartment, located near Eastern Michigan University, before fleeing.
He's charged with three counts of armed robbery and one count each of assault with intent to murder, being a felon in possession of a firearm and possessing a firearm during the commission of a felony.
He's being held in the Washtenaw County Jail on a $500,000 bond. If convicted, he faces life in prison.
Kyle Feldscher covers cops and courts for AnnArbor.com. He can be reached at kylefeldscher@annarbor.com or you can follow him on Twitter.