Posted on
Wed, Nov 9, 2011 : 10:18 a.m.
Herman Cain to visit Big Sky Diner in Ypsilanti as part of whistle stop Michigan tour
By Cindy Heflin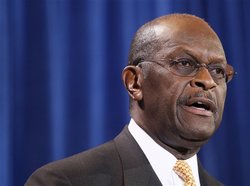 AP Photo
If you want to catch a glimpse of Republican presidential candidate
Herman Cain
in Ypsilanti Thursday, you'd better get there early. At least that's the advice from Dennis Moore, director and founder of the Willow Run Tea Party Caucus.
Cain will be at the Big Sky Diner 1340 Ecorse Road in Ypsilanti Township for a public appearance at 10 a.m. Thursday. Moore expects an elbow-to-elbow crowd. He promises Cain will also go outside to greet people and said speakers will be set up outside.
During the appearance, Cain will do a remote interview with Fox News host Sean Hannity for broadcast at a later time, Moore said. The appearance at the diner is expected to last at least an hour, Moore said. From Ypsilanti, he'll move on to Kalamazoo, Grand Rapids and Traverse City in a whistle stop tour of the state.
The Willow Run Tea Party Caucus has endorsed Herman Cain for the Republican nomination and leaders of the organization recently reaffirmed that endorsement in the face of recent accusations of sexual harassment against Cain. Moore said he believes the allegations are false.
"We looked quite clearly at what we thought was happening and what we viewed to be the character of the man and we reaffirmed our endorsement without a dissenting vote," Moore said.
Among Cain's accusers is Ann Arbor native Karen Kraushaar, who worked at The Ann Arbor News in the 1980s.
Cain, Moore said, represents the opposite of everything he hates about politicians. "He's unconventional. He's going to give you his gut."