Posted on
Sat, Mar 23, 2013 : 5:58 a.m.
High-schoolers plan student exchange program, community building activities for new district
By Danielle Arndt
About 50 high school students from Ypsilanti and Willow Run will meet Saturday to begin planning community-building activities for the new consolidated school district.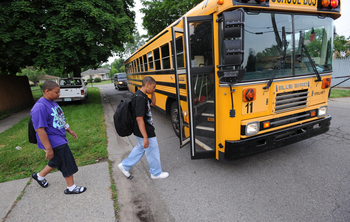 AnnArbor.com file photo
Among the plans will be a future student-exchange program that will involve groups of students from Ypsilanti and Willow Run visiting their respective sister schools for a day.
Ypsilanti high school students would be bused to Willow Run and Willow Run students would be bused to Ypsilanti "to attend classes, get a sense of what the physical structure and academic culture is like and to get to know the staff," said Ypsilanti Public Schools Assistant Superintendent Jennifer Martin. Martin is helping to coordinate the high school climate-, culture- and community-building discussions.
"It may not all occur at one time," she said of the student exchanges. "Like it might not be an entire swap of student bodies, but it may be that there are days where one-third of the students will attend the other high school. … We want to integrate them slowly. One of the big goals for Saturday will be planning this next step and figuring out how it will work."
The Ann Arbor Neutral Zone, in collaboration with Eastern Michigan University's Bright Futures program, will be facilitating the Saturday's event at EMU.
A steering committee was created, comprised of 25 students from Willow Run and 25 from Ypsilanti, who will lead their peers through the transition period and help to foster a sense of community and understanding between the two districts prior to merging in the fall.
Martin said the students on the steering committee are all leaders in student government or other organization at their individual high school. They also are students who "self-selected" to be involved in the merger early on, either by volunteering or participating in one of the new district naming, mascot or other consolidation-related forums or committees, Martin said.
The planning and community-building activities will be funded through a think.respect grant that both districts received.
The grant was part of the federal Safe and Supportive Schools initiative and is aimed at improving students' learning by coordinating academics with interventions to support students' social, emotional and physical health needs. The federal government doled out $24 million for the initiative. In Michigan, 23 schools received a portion of the funding.
Ypsilanti was awarded about $149,500 in grant funding. How much Willow Run received was not known.
The Ypsilanti and Willow Run high-schoolers will work on ways to engage their peers in dialogue about the merger and to get their respective student bodies involved in the consolidation process.
Creating a positive culture and climate and a familiarity at the high school that is evident on the first day of school is so important to the new district's success, school officials said.
Saturday is the first meeting between the Ypsilanti and Willow Run teens. The goals for the day, school officials said, will be:
Learning to work together effectively through community building.
Coming to personal and school identity understandings through dialogue.
Starting to foster a unified identity.
Understanding the consolidation planning goals and process.
Assessing individual school climates and issues and planning cross-school visits.
Starting to create meaningful roles in the consolidation planning process.
Danielle Arndt covers K-12 education for AnnArbor.com. Follow her on Twitter @DanielleArndt or email her at daniellearndt@annarbor.com.