Posted on
Sat, Aug 18, 2012 : 5:57 a.m.
Historic home tour offers glimpse into newly restored downtown Ypsilanti lofts
By Katrease Stafford
When Mark Serra discovered two local developers started a $2.2 million restoration project on three historic Ypsilanti downtown buildings in 2010, he knew he wanted to be a part of it in some way.
In 2011, Serra had the opportunity to move into a loft at 124. W. Michigan Ave. that was renovated by Eric and Karen Maurer of Maurer Management & Properties.
Now, Serra's home will be one of eight properties featured during the 35th annual Heritage Foundation Historic Home Tour on Sunday.
The Maurers also purchased buildings at 120 and 122 W. Michigan Ave. The purchase price for all three buildings, which were originally built in the 1850s, totaled $295,000.
The Maurers also restored the Kresge Building at the corner of Michigan and North Washington, and the Mack and Mack Building at 213 W. Michigan.
When the couple purchased the buildings, they renamed them the Mellencamp Building after the clothing store and the longest retail tenant in downtown Ypsilanti. Mellencamp's inhabited the first floor commercial space of the 122 W. Michigan Ave. location for 116 years before closing in July 1984.
The Maurers restored the first floor into three retail spaces and created twelve loft apartments on the second and third floors.
Karen Maurer said the renovation project would have been "impossible" without the various development incentives they received.
Under the new tax law, which went into effect Oct. 1, 2011, the Michigan Economic Development Corp. had a general pool of $100 million for a variety of different development incentives.
Serra, an Eastern Michigan University alumnus and restaurant marketer, lives in the 1,100-square-foot loft with his fiancee Ryann Stergalas. His 4-year-old daughter lives with them on the weekend.
"I had been a resident of another building two doors down for the last 10 years," Serra said. "It was also a nice building with a historic feel but I needed a space that was bigger."
In addition to Serra, who lives on the third floor, there are two other lofts in the building. All three tenants have made significant changes to their living space.
"We started looking at this place before the renovations were finished," Serra said. "It was attractive because it has a lot of wide open space and it allowed us to do some pretty creative things."
As soon as visitors walk into Serra's apartment, the first thing they may notice are the warm and rich colors, he said.
"We have things that may catch your eye," Serra said. "There's a purple end table that represents fun and vibrant colors. The apartment has kind of a mid-century eclectic feel to it. We wanted to capture a wide range of things."
Maurer said a lot of work went into restoring the building into what it once was.
"We had to completely rehab it," Maurer said. "It was just a shell. We had to put in floors, ceilings, appliances and kitchens."
The project took 18 months to complete and Maurer said it was the "most fun" she's ever had.
"When you're buying them and can visualize the space, it's really exciting," she said. "It's really great to bring these buildings back and it's making a real impact on our downtown."
Serra said when he initially moved in, the space was designed like a traditional loft with "one big room."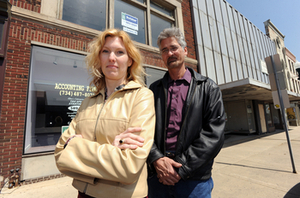 "We wanted to keep that wide open feel while also creating some separation," he said.
One of the things Serra did was create makeshift walls to give his daughter her own private space.
"We also created another nook which we turned into an office and we hung up some curtains to separate our bedroom," Serra said. "There's still a lot of work we want to do in there but since we've only been there for eight months, we're on pretty great track as far as what we wanted to do."
Serra said the main thing he likes is being right in the middle of Ypsilanti. Maurer said that's something many of the people living in her 44 lofts downtown says attracted them to the location.
"There's a lot of things going good in Ypsilanti," Serra said. "You get this home feel but you're right in the middle of the city and there's a lot of revitalization going on. There are a lot of things you get here that you won't living in a neighborhood."
Maurer said revitalizing downtown buildings and turning them into residential units has a profound effect on the economy.
"The people that live there go down to the restaurants and other places," Maurer said."That's when your town really starts to take to life. My husband and I love historic buildings and that's the reason we're here. ... Ypsilanti has a stock of these old buildings and you can't find architecture like this in any other city."
Serra said he and his fiancee frequent downtown restaurants such as beezy's cafe.
"If you compare Michigan Avenue to three years ago and what it is now, it's like night and day," Serra said. "People are always out in the street. Seeing the difference in the last few years has blown my mind and really makes me feel I made the right decision by choosing to stay downtown."
The Heritage Foundation Historic Home Tour is from noon to 5 p.m. Sunday. The tour is part of the Ypsilanti Heritage Festival taking place Aug. 17 to Aug. 19. Tickets can be bought in advance for $10 and on the day of the tour for $12.
In addition to Serra's home, seven properties will be shown during the home tour, including two other lofts in the same building; the "Greek Revival" Ypsilanti Public Schools administration building, the former 1830 home of the Breakey family; a 1926 brick, arts and crafts cottage style home; diminutive 1860s house in the Greek Revival style; the Wolverine Grill restaurant; an 1851 Italianate house; an early-twentieth-century bungalow; and a 1930s bungalow.
Visit this website for a complete description of each property being shown and for more information regarding where to purchase tickets.
Katrease Stafford covers Ypsilanti for AnnArbor.com. Reach her at 734-623-2548 or KatreaseStafford@annarbor.com. You can also follow her on Twitter @KatreaseS.