Posted on
Wed, Nov 28, 2012 : 5:57 a.m.
Washtenaw County relief agencies: All-time high demand for services 'becoming the new normal'
By Katrease Stafford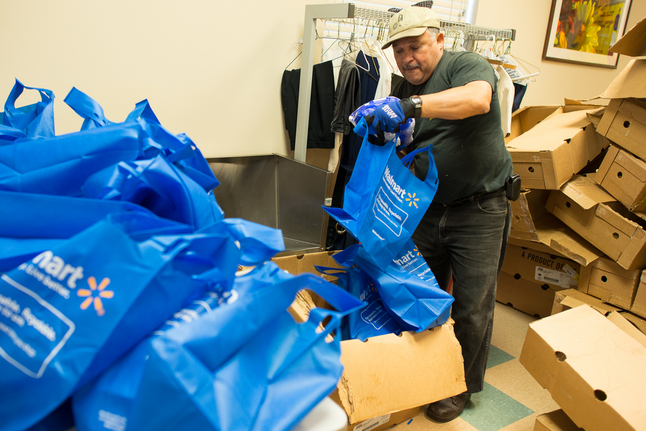 Courtney Sacco I AnnArbor.com
Washtenaw County charity organizations are reporting an increase in need for affordable housing, food, medical care and everyday necessities, with one official saying the record demand is "becoming the new normal" amid a difficult economy.
Hope Clinic and SOS Community Services are two Ypsilanti based organizations that aim to help fill that need.
Hope Clinic was founded 30 years ago by Dr. Dan Heffernan and offers a range of services to families and individuals such as medical and dental care, food assistance, access to basic necessities and even a place to do laundry for free.
Hope sees families who come from all over southeastern Michigan to obtain services.
In 2011, Hope Clinic provided 6,800 medical and 4,500 dental visits, filled $2.6 million worth of prescriptions, served 5,113 hot meals and gave out 12,466 bags of groceries to people in need.
Executive Director Catherine Robinson said she expects those numbers to increase this year. For every dollar Hope Clinic spends, five dollars of service are delivered.
"In the first nine months of the year, we provided 4,182 dental visits," Robinson said. "We will exceed 5,000 by the end of the year. We had a record-breaking month in October. We provided over 800 medical visits and 503 dental visits."
Since the nonprofit is seeing an increase in individuals and families seeking medical and dental assistance, the need for volunteer medical professionals has increased as well. Hope is currently recruiting more dentists and doctors.
Last year, the clinic moved all four of its locations into its current building at 518 Harriet St. in Ypsilanti.
"We moved so we could all be under one umbrella," Robinson said. "We built a larger building to address more of the need. We had about 3,500 square feet and added about over 10,000 square feet."
Robinson said the expansion also allowed the clinic to have a much larger space for the food pantry.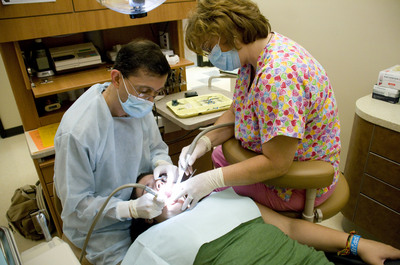 Tom Perkins | For AnnArbor.com
The number of volunteers at the clinic have grown significantly as well.
"In a given month, we'll have 500 and in a year, more than 1,000," she said.
Robinson attributes the growth in volunteers and need to the economic downturn and the slow recovery.
"I think that as people are aware of the need, people want to help and do what they can," she said. "Our economy has gone through such a difficult time and all of us know someone who is struggling and it's hit close to home."
SOS Community Services, at 101 S. Huron St. in Ypsilanti, began in 1970 and was founded by students and faculty at Eastern Michigan University. The organization has since grown and focuses largely on preventing and ending family homelessness within Washtenaw County.
SOS has also seen a substantial increase in need, according to community relations and volunteer resources supervisor Chelsea Brown.
"Last calendar year the SOS emergency food program served 7,390 people and 39 percent were actually children and we responded to 11,845 requests for food," Brown said. "These numbers represent nearly a 100 percent increase of the number of people and transactions from 2010. And we expect to serve even more this year."
Brown said SOS has received a number of inquiries from individuals who are no longer receiving any sort of financial assistance from the state.
"People who were previously getting financial assistance may not be getting it so they're seeking out other services."
These people typically seek help preventing eviction and finding shelter and transportation.
"More than 1,800 households requested assistance so far this year compared to about 1,600 last year," Brown said. "We are seeing growth in that area."
Both Brown and Robinson said their organizations wouldn't be able to provide the food services they do if it weren't for a key partnership with Food Gatherers — especially since requests for food assistance are increasing.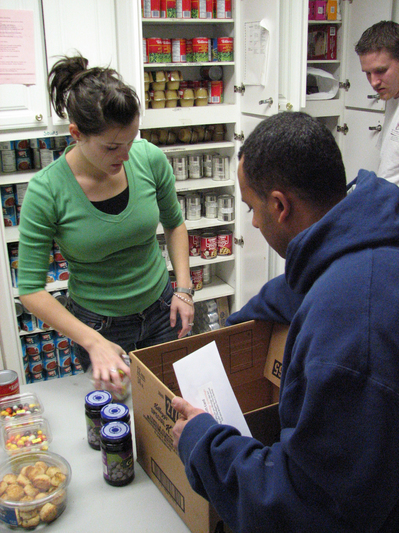 File photo
"The numbers are high as far as those who are trying to access the pantries," Brown said.
Mary Schlitt, director of development and marketing for Food Gatherers, said she too has seen growth in the amount of food assistance needed.
Food Gatherers provides food to more than 150 community partners and organizations. In 2011, the organization distributed 5.6 million pounds of food to those 150 partners.
"From 2006 to 2010, we went up 138 percent," Schlitt said. "What's happened is we've remained steady."
Schlitt said Food Gatherers is in the process of doing its next hunger study, which they do every four years. She expects the numbers to be about the same as before.
"Right now we're at this all-time high and we're staying there," she said. "It's becoming the new normal."
Last year, Food Gatherers had an unprecedented year with 106,616 plates being served in its community kitchen with the help of 1,500 volunteers, Schlitt said.
"We've definitely been surprised at the community kitchen where we had unprecedented amounts of people show up," she said. "We see more people towards the end of the months and have been left scratching heads as to why we're seeing a peak."
Mary Jo Callan, community development director for the Washtenaw County Community and Economic Development office, said the need isn't concentrated in one area within the county, but is instead widespread.
"I see these organizations who are really mission-oriented and exist solely to make life a little bit better for people in need as essential to the fabric of our community," Callan said.
Callan said the city of Ann Arbor has joined with community partners such as United Way to put about $7 million into the community to help fill the need for food and housing.
While Callan sees an increase in interested donors around the holidays, it tapers off during the rest of the year. Callan said it's important to note that need exists year-round.
"I encourage folks to remember this year round and not just around the holidays," Callan said. "If they have an impulse to help, please do. A dollar or an hour of time really makes a difference."
Katrease Stafford covers Ypsilanti for AnnArbor.com.Reach her at katreasestafford@annarbor.com or 734-623-2548 and follow her on twitter.