Posted on
Sun, Dec 25, 2011 : 5:59 a.m.
Ian Jenkins continues to 'Have A Purpose' as his family faces their first Christmas without him
By Kyle Feldscher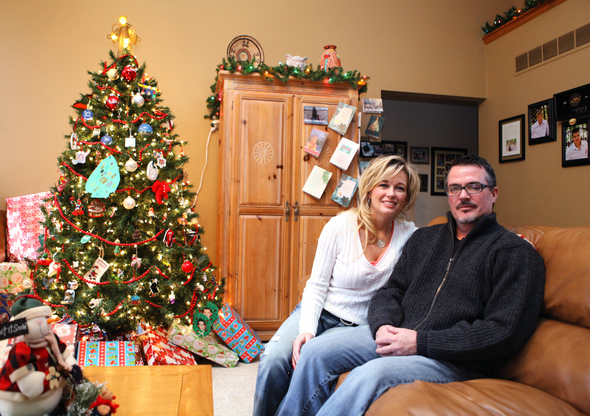 Jeff Sainlar | AnnArbor.com
A little more than seven months after his tragic death, Ian Jenkins' family is finding ways to celebrate his favorite holiday by remembering his promising life and the impact he continues to have on others, even in death.
Ian was just 15 when he died from head injuries suffered in a May accident as he fell from the back of a pickup driven by a friend in a Milan neighborhood. However, his father said anyone should hope to have the impact on people that Ian had during his short life.
Joel Jenkins, of Ypsilanti Township, said he's relied on the support his family, friends and countless strangers who have reached out since the accident, the days when his son was on life support and afterward.
Joel Jenkins said the pain of losing his son is especially fresh during the holiday season because Ian so loved the Christmas period.
"He was 12 or 13 before he truly didn't believe in Santa Claus," Jenkins said, smiling as he remembered. "This time of year was magical for him. I can still see him shuffling down the hall in his jammies."
Preparing for Christmas has been especially difficult for Ian's family: Joel Jenkins, his wife and Ian's stepmother Debbie, and their kids Garrett, Cassidy and Lester Lancaster, as well as Ian's mother Gloria Montenzanto.
Debbie Jenkins said the family decorated the Christmas tree in their living room in near silence as each of them looked at old ornaments and pictures of Ian from when he was a child. She said Ian once spent more than two hours fixing all the lights on the tree after everyone else in the family had given up on trying to fix the strand.
Even though her husband struggled with finding his holiday spirit, Debbie Jenkins said it was necessary for the entire family to celebrate the holiday, along with Ian's life, in order to continue to grieving process.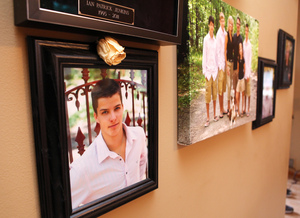 Jeff Sainlar | AnnArbor.com
"In reality, death happens every day, but he was a very exceptional kid and we're very proud of him in all aspects," she said, "and he's just touched a lot of people.
"That's what I want to continue to celebrate."
The family is planning to make a trip today to place a stocking filled with gifts on Ian's grave, Debbie Jenkins said.
Not having their brother around during the holidays is hard on his brothers and sister, Debbie Jenkins said. Garrett still has trouble talking about his brother and Lester is coming to grips not having his brother and hockey teammate around as well, she said.
Lester said putting the ornaments on the tree this year was challenging.
"It was pretty tough, just seeing some of the old pictures of him as a kid and all that, remembering all the good times we had together," he said.
"But at the same time, it was also good because it made us remember that we did have those good times and we can always look back on those."
Montenzanto said the build-up to the Christmas season has been especially difficult for her as well.
The holiday season is a time when families all come together and enjoy each other's company, she said. With Ian gone, it's hard to not feel like there's something missing when everyone is together, she said.
"He was my first born, he was my first son, so it's hard," Montenzanto said through tears. "It's tough. It's really tough."
Montenzanto said she's had numerous people speak to her about how they were surprised at revelations following his death about Ian's hockey skill. He'd been drafted into the London Knights, part of a Canadian development league, the day before his death and he was considered a top goalie prospect.
Ian had a promising future on the ice in front of him before the accident, but it was almost unknown to many people in his life, she said. That includes people at Milan High School, where he was a sophomore.
"He was very humble about his talents and what I have learned is he did not tell people about his hockey, especially at school," she said. "There were teachers who kind of knew he played hockey but never realized to what extent. He never let his gifts define him."
Ian died after spending days in the hospital following the accident. Hundreds of friends, family members and former teammates came to the hospital in the days following the accident to say good bye to Ian as it became clear he would not recover.
After the accident, Ian's family members did not want charges filed against the teen driving the truck as the investigation into the accident concluded in June. Joel Jenkins said he and his family didn't want "another tragedy" associated with Ian's death.
Joel Jenkins said the family is still close with the teen, and the Jenkins family knows he must live with the accident every day for the rest of his life.
Meanwhile, the outpouring of grief and support from the community immediately after the accident - and for months afterward - was a testament to how Ian lived his life, his father said.
Many of Ian's family members take solace in knowing that it's impossible for people to forget his loving nature and the way he's affected so many lives. Ian lived his life by the saying "Have A Purpose" and it's clear that philosophy has continued due to his influence.
Joel Jenkins said the best way to honor Ian's life was to combine his love of hockey with his desire to help underprivileged children into the Big E Foundation, which gave scholarships to six youth hockey players to help pay for their ice time and equipment since his death.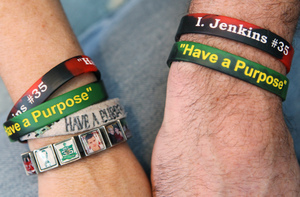 Jeff Sainlar | AnnArbor.com
The foundation has held a number of fundraising events and has received donations from many people, including a $10,000 donation from Belle Tire. Joel Jenkins said Buffalo Wild Wings in Ypsilanti is sponsoring the Big E Foundation in 2012 and will hold a three-day celebration at one point in the year and all proceeds will be donated to the charity.
But one of the most amazing ways that Ian's memory lives on is in the lives he has managed to save by donating his organs following his death.
Kevin Folster, a member of NorthRidge Church where Ian was a member, received one of Ian's kidneys following his death. Montenzanto, who sees Folster every week at church, said he's like a new person since the donation.
"It's just absolutely amazing and he's now forever a part of our family and that's never going to change," she said. "We enjoy having him as a part of our life. Ian didn't need those organs and they were a gift we were able to share with others, the gift of life."
Folster first introduced himself to Joel Jenkins and Debbie Jenkins on Father's Day at the church. Joel Jenkins said a year ago, Folster's life was hanging in the balance, but with the gift of Ian's kidney, he's living a normal life.
Debbie Jenkins said it's been great to watch Folster improve since that meeting.
"He looked withdrawn a little bit (when they first met) and we saw him a couple weeks ago and he's full of life and he's put on his weight again and it's remarkable to see the transition form our first meeting to a couple weeks ago," Debbie Jenkins said. "I look at him and I go that is Ian and Ian was so full of life."
Montenzanto described Ian as a polite boy who never needed to be reminded to say please or thank you and would take the coat off his back to make sure someone else was warm. She said all of the good things that have come from his death are exactly what he would have wanted.
Reminders of Ian's impact on total strangers come in on a regular basis, Joel Jenkins said.
Not a week goes by without someone contacting the family through Facebook or with some homemade memento, like the photo album a woman in London sent or the photo illustration a young woman dropped off at the home last week. Pictures of Ian still hang around the Jenkins' home and even the family dog, Coda, wears a metal tag with Ian's thumbprint.
All of these things serve as a daily reminder to the Jenkins family about the loss they've had to endure.
Joel Jenkins said that he has many moments where he wishes he could simply erase his memory of all the pain he and his family have endured and just have Ian back, but he knows that there is a lot of good coming from all of the pain.
"I think of the 'Men in Black' movie with the memory zapper," he said with a slight laugh. "But, ultimately, you don't want that to happen. It's just amazing how many people thought the world of him even if they didn't know him. I miss him, but I'm proud."
Kyle Feldscher covers cops and courts for AnnArbor.com. He can be reached at kylefeldscher@annarbor.com or you can follow him on Twitter.