Posted on
Mon, Apr 22, 2013 : 5:57 a.m.
Ice cream bike-delivery business coming to Ypsilanti
By Katrease Stafford
Rob Hess, owner of Go! Ice Cream has combined his two loves, ice cream and bicycling, to start a new business. Soon Ypsilanti residents will be able to have ice cream delivered straight to their doorstep.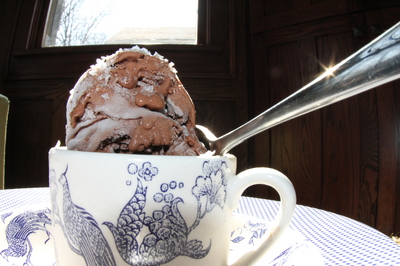 Courtesy Rob Hess
"I started making ice cream four years ago and I just got so entranced with it," he said. "Once I did the first batch, I realized it's kind of a complex thing... I started bringing it into work and then it started a crazy sensation."
That's when Hess realized he was onto something.
"I just came up with this idea that I should sell ice cream off of a bike and sort of laughed about it," Hess said. "But then I tried to figure out 'How do I make the best possible ice cream and distribute it off the back of my bike?' What I'm interested in is making high-quality ice cream with local ingredients. It's hard to find that."
Hess is specially outfitting his bike, a Worksman Tricycle that was made to carry several hundred pounds. The bike was created to carry a foreman up and down the auto plant lines, Hess said.
Hess's bike will have a stainless steel umbrella and a few other designs. Hess said he considered buying a truck instead, but decided against it because he wanted to have a more creative approach.
"You can cover a bigger area if you have an ice cream truck, but the thing is, I love biking," Hess said.
Hess said the ice cream he makes will fill a need for people seeking out high-quality ice cream, with no additives or preservatives. Hess gets his ingredients from the Ypsilanti Food Co-op and browses the co-op's spice racks for things that possibly could help him come up with a new flavor.
"I want to keep the money local in Ypsilanti," Hess said. "Whenever I can support a local business, I do."
Hess said he also obtains his chocolate locally from Mindo Chocolate Makers, a Dexter-based company.
Bona Sera Cafe's at 200 W. Michigan Ave., also is allowing him to rent out their kitchen to produce the ice cream.
Hess is the owner and sole employee of the business, but he said he hopes to be able to expand and hire other employees.
"I think sometimes where businesses go wrong is the key people in the business aren't aware of all aspects, so for me it's really important that I'm there making ice cream and developing the standard," Hess said.
Hess said his business isn't seasonal one and said that doing the winter, orders will still be filled.
"Ice cream has absolutely no season," Hess said. "It's going to be year-round. I have a feeling the market will support ice cream in January."
Hess said when he first opens, his delivery area will be limited to a 10-mile radius around Ypsilanti in neighborhoods, throughout Depot Town and weekend events. Hess said eventually he may expand to delivering to Ann Arbor.
"We'll be able to travel more broadly," he said. "I would love to have some more presence in Ann Arbor, but I'm starting in Ypsilanti."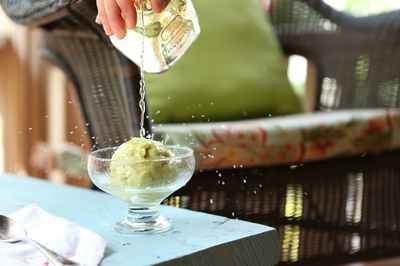 Courtesy Rob Hess
Flavor-wise, Hess plans to offer several options such as the standard vanilla and chocolate to more unusual flavors.
Here are a few of the flavors he's offering:
Toasted Almond
Blackstrap Molasses
Black Peppercorn
Avocado Tequila
Pecan Pie
Lemon Poppyseed
Hess has vegan options, as well, using a blend of almonds, cashews and coconuts to create a milk for the vegan dish.
"I was looking at these vegan ice creams and they all tasted nasty," he said. "I will always have a vegan offering."
Hess said he is still in the licensing process and obtaining permits from Washtenaw County, but he hopes to have a soft opening toward the end of May and during the beginning of June, he'll have a free ice cream social for the public.
Hess said those who have been introduced to his product have been receptive to the idea.
"There's a real ability for food to take hold in Ypsilanti," Hess said, citing the recent opening of several businesses. "There's just a sense of pride in the community. It's a place that really embraces the unique. It showed me how to embrace my own uniqueness, as I look around at all of the unique establismhemnts that exist. I want to create yet another unique institution and give back to the community."
Orders can be made through Hess's website and Hess said customers can sign up for updates for an official opening day.
Katrease Stafford covers Ypsilanti for AnnArbor.com.Reach her at katreasestafford@annarbor.com or 734-623-2548 and follow her on twitter.