Posted on
Fri, Apr 12, 2013 : 4:33 p.m.
Author, CEO Josh Linkner talks ethics at Eastern Michigan University Ethos Luncheon
By Kody Klein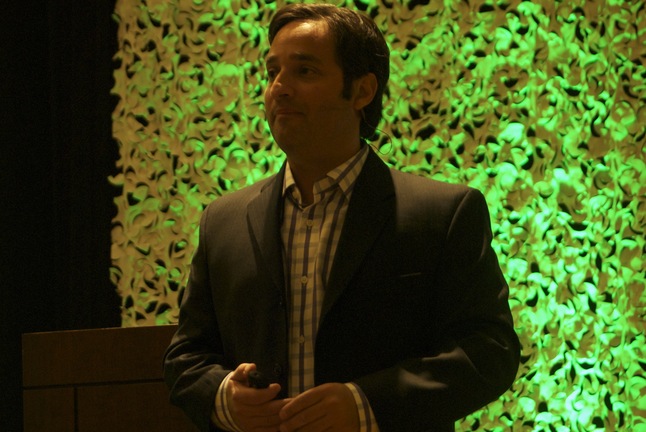 Kody Klein I AnnArbor.com
Detroit-based venture capitalist
Josh Linkner
told a group of students, educators, and business people to be fearlessly creative and forward-thinking Friday at
Eastern Michigan University's
seventh annual
Ethos Luncheon
.
"So many people and so many organizations, spend their lives playing it safe only to find out that playing it safe is the riskiest move of all," he said.
Linkner is author of the New York Times best-selling book, Disciplined Dreaming, and has started and sold four successful tech-businesses with a combined value of more than $200 million. He also is CEO and managing partner of Detroit Venture Partners, a venture capital firm that aims to rebuild Detroit through entrepreneurship.
Linkner advocated a corporate culture where companies are self-critical, pursuing innovation by taking risks and encouraging ideas, even ones that are unsuccessful. He said companies that fail to do this ultimately will fail.
"Someday a company will come along and put you out of business—it just will," he said. "It might as well be you, so make sure that you continue to be that driving force of change, instead of having it thrust upon you."
Linkner showed a list of companies, including Blockbuster, Borders, Kodak, Circuit City and several others, and asked his audience what they all had in common.
"All of them are struggling and many of them are gone," he said. "They rested on their laurels. They failed to innovate."
Linkner said no matter its triumphs or failures, a company should always embody the simple motto of Duke University's head basketball coach, Mike Krzyzewski: "Next play."
"If we've had a terrible setback, we're down, time's running away from us, we can't be focused on that," he said. "You have to be focused on the next play."
These ideas are part of what Linkner calls small-business thinking. He said no matter how large a company becomes, it should still think of itself as a scrappy and creative startup.
"Small company thinking is about embracing risk versus avoiding it," he said. It's the difference between urgency and being slow-moving, creating new ideas versus protecting the old ones. In small company thinking, ideas come from everywhere, they're bottom-up. In big company thinking, they're often jammed only from the top down. It's the difference between being idea-centric versus rules-centric."
Linkner said the small-business mindset not only stimulates innovation—it keeps companies honest as well.
Michael Tidwell, dean of EMU's College of Business, said that although EMU's annual Ethos Week programming was reduced this year, he has plans to expand it in the future.
"We're going to have events throughout the course of the year," he said. "Every month, students (will) get a little bit of information on ethics. We want to make sure they're getting ethics throughout the course of the academic year."
Tidwell said the College of Business will be introducing a Business of the Year award, to recognize socially-responsible business activity. The college also will be starting an institute for social entrepreneurship to encourage social and environmental ethics.
Michigan Representative David Rutledge attended the Luncheon. He said he found Linkner's focus on ethics "refreshing" and he plans to share Linkner's ideas with other politicians in Lansing.
Kody Klein is an intern for AnnArbor.com. Reach him at kklein@mlive.com