Posted on
Sat, Dec 3, 2011 : 5:58 a.m.
Judge permits Environmental Protection Agency to test property where Ypsilanti Township man buried junkyard
By Tom Perkins
A judge has granted the Environmental Protection Agency permission to further test the soil on a property where an Ypsilanti Township man illegally buried a junkyard.
EPA officials will conduct tests at the site to determine contamination levels and whether a federal clean up is required. A hearing at which a judge could grant permission for the EPA to move forward with remediation is scheduled for Dec. 8.
In March, Ypsilanti Township building inspectors discovered George Madison buried a variety of junk on a small portion of his 5-acre lot on Daytona Avenue. Among other debris were gas cans, tires, metal pieces, a bowling ball, car parts, various chemical containers and other items.
Township and federal officials originally feared the contamination could reach nearby Ford Lake, though an EPA official has since said that is unlikely.
Preliminary tests conducted by township officials found petroleum and high acid levels in groundwater on the site, and the EPA was called in to take over the site's management.
Over the summer, attorneys for the EPA asked Madison to sign a consent for access agreement allowing them enter and test the site for contamination. Madison has refused to sign it.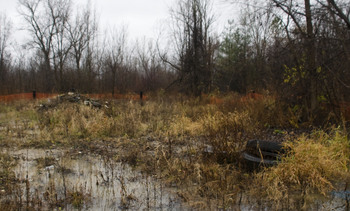 Tom Perkins | For AnnArbor.com
Township Attorney Dennis McLain asked Washtenaw County Circuit Court Judge Timothy Connors to allow the EPA to enter the site for testing, though the court date wasn't until Nov. 3. Connors said the EPA should report its findings to the court before proceeding with a clean up.
The EPA was supposed to begin prepping the site for testing on Nov. 28 and finish by Dec. 5, McLain said, but they have yet to start.
A representative from the EPA's Grosse Ille office previously said the agency began inspecting the site in June, using ground-penetrating radar. Of particular interest are any kind of containers that could be filled with oil or other pollutants, and their inspection revealed there are canisters in the ground. The next round of testing will reveal if there were chemicals leaking out of those.
"At least things are progressing and hopefully we'll have the EPA's inspection report and recommendations for remediation shortly," McLain said.
Township officials discovered Madison's lot in April 2010. A one-acre paved portion was filled with cars, trucks, dump trucks, car parts, boats, an engine hoist, garbage cans, debris and canisters full of chemicals.
The site was declared a public nuisance in August 2010, and Connors ordered Madison to clear the property and return it to its natural state.
But when inspectors went to the site in March, they discovered fresh lumps of soil and suspected some junk was buried. Their suspicions were confirmed when they dug test holes and found the debris.