Posted on
Thu, Dec 15, 2011 : 12:11 p.m.
Katharine Mishler pleads guilty to 2nd-degree murder for killing husband
By Kyle Feldscher
An Ypsilanti Township woman pleaded guilty to one count of second-degree murder Wednesday for fatally shooting her husband after an argument in March, court officials said.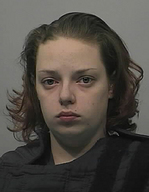 Katharine Mishler, who was 23 when she was charged with an open count of murder, likely will serve between 15 and 30 years in prison for shooting and killing Samuel Mishler early on March 23. Mishler originally told police that she had shot an intruder before telling detectives she and her husband had been arguing and she had fired a single bullet into his head.
Mishler was arrested on March 23, arraigned on the charge the next day and has been held since then in the Washtenaw County Jail. Washtenaw County Trial Court Judge Archie Brown will sentence her at 9 a.m. Feb. 1.
According to testimony from her preliminary exam, Mishler shot Samuel Mishler at about 1:45 a.m. March 23 at their Tuscan Creek Apartment in the 200 block of Stevens Drive in Ypsilanti Township. When she first called police, she identified herself as "Kat Jackson" and told dispatchers she had shot an intruder, according to a 911 tape played at the hearing.
Washtenaw County Sheriff's Office Detective Everette Robbins testified he found some inconsistencies in Mishler's story and pressed her for the truth during questioning.
She eventually told him that she and her husband were in the living room of their apartment late that night when an argument began. The couple's dog continued to jump on him, which was angering him, and she was tired of having to do chores, according to Robbins.
According to Robbins, Mishler told Samuel Mishler, "If you don't leave, I'm going to shoot you" and pushed him toward the door, but he wouldn't leave. She then walked into a bedroom where the couple kept three guns, picked one up and cocked it, hoping the noise would be enough to make him leave, Robbins said.
Robbins said Mishler told him that her husband said, "If you want me to leave so much, pull the trigger." Washtenaw County Chief Medical Examiner Bader Cassin testified that the muzzle of the gun was directly pushed against Samuel Mishler's head and one shot was fired. The resulting force was like "a hammer striking the head," Cassin said.
Kyle Feldscher covers cops and courts for AnnArbor.com. He can be reached at kylefeldscher@annarbor.com or you can follow him on Twitter.