Posted on
Tue, May 21, 2013 : 5:57 a.m.
Kim's Resale Shop closes in Depot Town as owner pursues new venture
By Katrease Stafford
Daniel Brenner | AnnArbor.com
Kim's Resale Shop in Ypsilanti's Depot Town closed last Thursday, nearly two and a half years after opening. Owner Kim Ion said with the shop closing, she now has time to focus on her new venture in Ypsilanti, the 5 Alarm Flea Market.
"We've been talking about closing the shop for two months," Ion said. "The traffic in Depot Town for antique shops has really dwindled in the past six months or so. The shop itself has been slow."
Ion said the idea to close the business, at 25 E. Cross St., came after she received an offer for all of the merchandise and items within her shop.
"I had a couple gentlemen from Antique Auction House come in and they made a price and I said okay," Ion said. "They bought everything Thursday and are moving it out now."
Ion said closing the store will give her more time to focus on growing the flea market, located at 800 Lowell St., which she says averages between 40 and 60 vendors on a regular basis.
"I'm going to really miss the daily environment of Depot Town, but I'm staying in Ypsilanti with my business and I would like to hope that people check our location and make it a regular stop," Ion said. "I'd like to thank everyone who shopped there and hopefully they'll continue the participation and make the flea market more successful."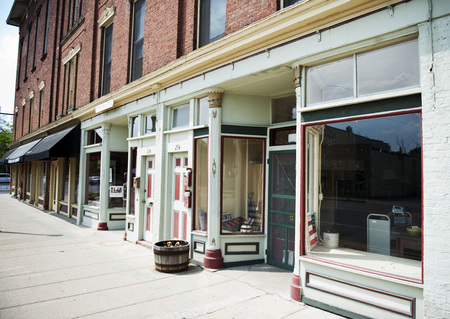 Daniel Brenner | AnnArbor.com
The building where the 5 Alarm Flea Market is located is owned by the Michigan Firehouse Museum owner, who is allowing Ion to use his nearly 7,000-square-foot warehouse space on Lowell Street.
The market originally was named the Depot Town Flea Market, Ion said, but she changed the name to reflect her location within the Firehouse museum.
In addition to being a family-run business, Ion said the firehouse usually has on average two to three volunteers and employees around to help staff the market.
"We started the flea market in February and it's grown very well," Ion said.
The vendors mainly sell vintage antiques and some personal items such as purses, Ion said.
The flea market is every Saturday from 9 a.m. to 4 p.m., indoors. During the summer months, the market also is open outside starting around 7:30 p.m.
Katrease Stafford covers Ypsilanti for AnnArbor.com.Reach her at katreasestafford@annarbor.com or 734-623-2548 and follow her on twitter.