Posted on
Mon, Aug 13, 2012 : 4:15 p.m.
Lincoln schools athletic director to take AD position at Ann Arbor Pioneer
By Danielle Arndt
Eve Claar has returned to the athletics department at Ann Arbor's Pioneer High School, after three years as the athletic director at Lincoln High School.

Courtesy of HomeTeamsOnline.com
Claar worked as the assistant athletic director at Pioneer from 2003 to 2006, before
Ann Arbor Public Schools
had to cut its assistant director positions, said district spokeswoman
Liz Margolis
.
Claar worked under Lorin Cartwright, the former Pioneer AD, who retired in June after 32 years with AAPS. Claar could not be reached for comment Monday.
Lincoln schools Board of Education will approve appointing an interim athletic director at its regular meeting tonight. District leaders have recommended that Chris Westfall, football coach at Lincoln High School, fill the void.
Westfall has been coordinating with Claar for a smooth transition, Superintendent Ellen Bonter said in a memo to the board. He already is a regular at Lincoln sporting events.
"There's no way anyone has seen more Lincoln athletics in the last five years," he said.
Westfall said his presence is to show the kids he cares and to try to build a greater community spirit behind the football team and athletics program in general.
"The best thing for Lincoln is to do what we do, (to) continue to be positive," he said.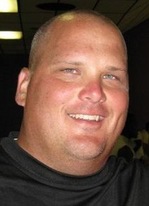 Courtesy of HomeTeamsOnline.com
Westfall's "dream position" is an athletic director, he said. After beginning his professional career in corporate America, Westfall recently obtained a teaching degree and has been working at Lincoln schools as a substitute teacher as often as he can.
"(Athletic director) has always been the ideal job, but really the plan was to teach for a while and sort of work into a masters," he said, adding he will throw his hat in the ring to fill the AD position on a permanent basis.
Lincoln schools trustees also will appoint an interim high school principal at Monday's meeting, following the resignation of John Dignan in June. The principal job posting closed on Friday. Bonter said there were 33 applicants, two of whom were internal applicants.
The AD position has not been posted yet.
Westfall, who worked closely with Claar for the past three of his six seasons as head coach, said she's "fantastic. She's been great for Lincoln and she'll do great at Pioneer."
The salary range for the athletic director at AAPS is $91,965 to $103,690. Claar was hired at lowest amount. The AD is an Ann Arbor Administrators Association position. Positions in a collective bargaining unit do not need to come before the Board of Education for approval. Bonter said Claar's total compensation last year at Lincoln was about $86,000.
The AD position at Pioneer is a partial administrator's role, Margolis said, explaining the AD shares some duties and responsibilities with the high school principals. Those responsibilities include school management and teacher evaluations, she said.
The Pioneer athletic director position was intended to become a lower-level athletic coordinator position upon Cartwright's retirement, Margolis said. However, Superintendent Patricia Green posted it as a director position.
An athletic coordinator makes less money and has the sole responsibility of maintaining the athletics department and overseeing the sports teams, coaches, schedules and transportation needs of the athletics program.
Margolis said around the time when Skyline High School was built, a plan was developed by the former superintendent to hire only an athletic coordinator at Skyline and when the ADs at Huron and Pioneer retired, they would be replaced with coordinators as well. She said the high school's administrative structures were evaluated at that time and it was determined the schools did not need that many administrators.
Each comprehensive high school has a principal and two assistant principals. The athletic director at Huron and Pioneer equates to three pseudo-assistant principals.
Margolis said as is common with new leadership, plans can change. It is her understanding the plan is being reviewed, she said.
Green was unavailable for comment Monday afternoon.
AnnArbor.com Sports Editor Pete Cunningham contributed to this story.
Danielle Arndt covers K-12 education for AnnArbor.com. Follow her on Twitter @DanielleArndt or email her at daniellearndt@annarbor.com.