Posted on
Mon, Sep 9, 2013 : 5:55 a.m.
Long-vacant, historic downtown Ypsilanti building to be auctioned
By Tom Perkins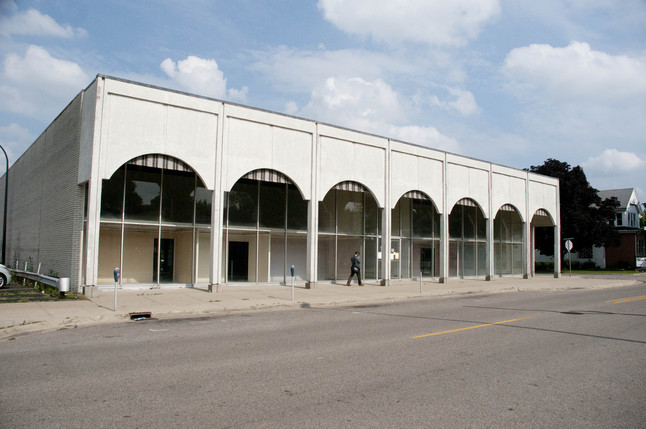 Tom Perkins | For AnnArbor.com
The fate of downtown Ypsilanti's Smith Furniture Building will likely be decided on Wednesday.
The 24,000-square-foot structure has largely sat vacant since it was purchased by its current owner, James Pate in 1992. After recent pressure from the city, Pate opted to put it on the auction block.
The no-minimum bid auction will be held by Ann Arbor-based auction house Braun and Helmer at the property at 15 S. Washington St. on Sept. 11 at 1 p.m.
Up until the last month, the building was blanketed in green mold, though Braun and Helmer has worked over recent weeks to clean the tile, carpet, partitions and other materials on which most of the mold was growing. The company also made repairs to the leaking roof.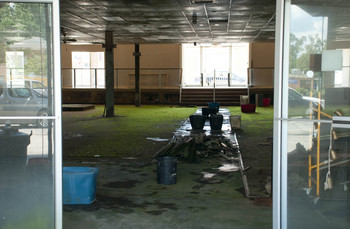 Tom Perkins | For AnnArbor.com
Auctioneer Jerry Helmer said the two-story building is greatly improved from its state a month ago.
"There's no comparison. You would walk across the carpet before and would hear 'splish splish,'" he said. "It still needs a lot of work, though I covered everything I thought needs to be covered."
Helmer highlighted that the steel and concrete building is still structurally sound.
Still, he said the building needs "considerable improvements" including repairs to the roof, electrical system, plumbing system, heating, drywall, ceiling tile and more.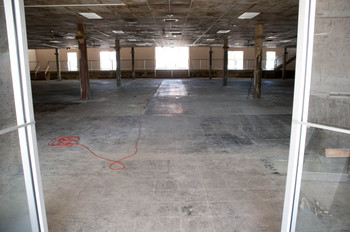 Tom Perkins | For AnnArbor.com
A no-minimum bid, no contingencies auction was chosen over putting the Smith on the market because Pate wants to quickly move the property, Helmer said. City of Ypsilanti records show it has a taxable value of $264,000.
A $25,000 deposit and signed sales agreement is due upon purchase, while the balance must be paid in full within 30 days.
Helmer said he has already received several inquiries about the deposit and is pleasantly surprised by the interest so far.
"You get a lot building for the money," he said.
A 10-percent buyer's premium is included. Helmer said it will offset some of his company's cost of the major interior cleanup.
Pate bought the building from the former owners for $300,000, and it was only ever partly used as an office for his wife. Several attempts to purchase the property were rejected or ignored.
City Planner Teresa Gilloti said the city would be pleased to see an active use on the first floor such as retail or a restaurant, and possibly residential on the second floor.
"We just would love reactivate the property, get it back on tax rolls and revitalizing that section of downtown would be fantastic to see," she said.