Posted on
Wed, Mar 27, 2013 : 11:18 a.m.
Man accused in July shooting returns to court next month
By Kyle Feldscher
The man accused of shooting another man on Bedford Drive in Ypsilanti Township last year will return to court for a final pretrial hearing next month.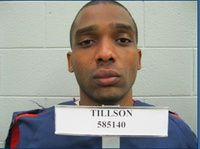 Courtesy of the state of Michigan
Christopher Tillison, 26, is charged with shooting a man during a robbery on July 10 in the 300 block of Bedford Drive. He was scheduled to be in court Tuesday afternoon but his final pretrial hearing was adjourned until 1:30 p.m. April 2, according to jail records.
Tillison is scheduled to go to trial in the case at 8 a.m. April 15, according to court records.
Tillison is accused of being one of the men involved in the incident, in which an Ypsilanti Township man was shot in the knee at 10:45 a.m. July 10 in the 300 block of Bedford Drive, a street in the Huron Ridge Apartments near Eastern Michigan University. A car hit a second man, 31 years old, soon after the shooting.
Tillison is the only person charged in the case and was arraigned on July 24 and has been held at the Washtenaw County Jail since then. He was originally given a $250,000 bond but now faces a $500,000 bond, jail records show.
In the days after the shooting, police said a second man was at large, but no one was ever arrested.
Tillison faces a charge of assault with intent to murder, as well as three armed robbery charges and charges of first-degree home invasion, being a felon in possession of a firearm and possession of a firearm during the commission of a felony.
The shooting occurred just three months after Tillison was paroled on a previous conviction. He has seven previous convictions dating back to Oct. 20, 2005.
Kyle Feldscher covers cops and courts for AnnArbor.com. He can be reached at kylefeldscher@annarbor.com or you can follow him on Twitter.