Posted on
Sat, Feb 16, 2013 : 2 p.m.
Man accused of beating girlfriend and running her over with car to face trial
By Kyle Feldscher
The man accused of beating a woman, running her over with a car and attempting to lock her in a trunk after she tried to break up with him will head toward trial.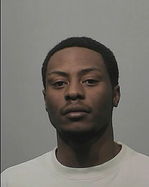 Michael Glenn, 21, faced a preliminary exam Tuesday morning at the 14A-1 District Court in Pittsfield Township. District Court Judge Christopher Easthope bound him over on all 10 felony counts he's facing in connection with the Nov. 27 incident, according to court records.
Glenn stood mute and a not guilty plea was entered on his behalf, records show. He'll be back in court for a pretrial hearing at 1:30 p.m. March 26 in front of Washtenaw County Trial Court Judge Donald Shelton, according to court records.
Glenn is accused of beating up his girlfriend in the driveway of his home in the 2300 block of McKinley Road in Ypsilanti Township.
According to deputies, the woman went to Glenn's home with the intention of breaking up with him and getting some of her things from his home. Glenn got into her car and an argument started. Deputies said he punched the woman several times, grabbed an unknown object and stabbed her in the face repeatedly.
Glenn then allegedly strangled the woman to the point that she blacked out multiple times. He dragged her out of the car and ran her over with the vehicle several times before trying to put her in the trunk, according to deputies.
The woman fought against Glenn and managed to convince him she wouldn't leave him, escaping from the trunk. He went inside his home and she ran to a neighbor's home. After that deputies were called. Glenn stole the woman's car and drove away before investigators could arrive, according to deputies.
He was on the lam until mid-January, when he was arrested in Detroit. He's lodged at the Washtenaw County Jail on a $250,000 bond.
Glenn is charged with two counts each of assault with intent to murder, assault with intent to do great bodily harm and assault with a dangerous weapon. He faces one charge each of carjacking, motor vehicle theft, unlawful imprisonment and domestic violence.
Kyle Feldscher covers cops and courts for AnnArbor.com. He can be reached at kylefeldscher@annarbor.com or you can follow him on Twitter.