Posted on
Wed, Aug 21, 2013 : 4:55 p.m.
Man accused of lighting crane on fire arrested for breaking and entering while out on bond
By John Counts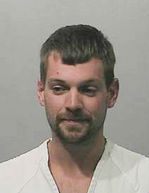 Courtesy of Washtenaw County Jail
The 30-year-old Ypsilanti man charged with arson after police said he set a construction crane on fire was arrested for breaking into an apartment complex three days after being freed on bond, police said.
James Henry McPherson has been arraigned on one count of breaking and entry, illegal entry, and is now being held at the Washtenaw County Jail on a $25,000 bond, jail records show.
Police said they found McPherson hiding in a closet in the offices of Paschall Apartments, located at 15 Johnson St., while responding to a break-in at 11:30 p.m. Monday night. A neighbor had heard glass breaking and called 911.
McPherson was arrested and taken to jail, where three days earlier he was arraigned via video in the 14A-1 District Court on two counts of arson and one count of property damage after police said he lit a crane on fire.
The crane, which officials said cost around $1 million brand new, was being used to rebuild the Ford Boulevard bridge in Ypsilanti Township. McPherson is accused of sneaking onto the construction site and somehow popping open the fuel compartment on the crane and setting it ablaze.
He is also accused of slashing several tires at the site. For that incident, McPherson is charged with arson, third-degree arson of property more than $20,000 and malicious destruction of property between $1,000 and $20,000.
Magistrate Elisha Fink gave McPherson a $5,000 personal recognizance bond, thus setting him free, when he was arraigned on those charges Friday.
During that arraignment, McPherson admitted substance abuse issues.
"I'm in between jobs right now," he said Friday. "I don't have money for an attorney. I'm struggling with drugs and alcohol."
Police said McPherson was highly intoxicated when arrested soon after firefighters extinguished the burning 20-foot tall construction crane.
John Counts covers cops and courts for AnnArbor.com. He can be reached at johncounts@annarbor.com or you can follow him on Twitter.