Man accused of sending pit bull after deputy leaves jail after paying $500
Posted on Wed, Aug 29, 2012 : 11:38 a.m.
The man accused of sending his pit bull after a Washtenaw County Sheriff's Office deputy was out of jail Wednesday morning after paying $500, according to investigators.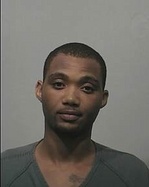 Courtesy of WCSO
David Richmond Lyle, 22, has been charged with two counts of assaulting, resisting or obstructing a police officer and a misdemeanor charge of assault and battery on someone with whom he has a child, according to court records. Sgt. Geoffrey Fox said Lyle paid his 10 percent of his $5,000 bond and was no longer in jail Wednesday.
According to police, Lyle and his girlfriend were having an argument when deputies were dispatched at 9:15 p.m. Sunday to a home in the 500 block of Pinewood Avenue. The mother of Lyle's girlfriend, who made the 911 call, warned police Lyle may send the dogs after deputies who were responding to the incident, Fox said.
There were two dogs at the home when deputies arrived, finding Lyle and his girlfriend having a loud argument in the backyard of the home. Lyle was holding the child in one arm while holding one pit bull between his legs by the scruff of its neck with his other hand, according to deputies. His girlfriend put the other dog inside, but Lyle allegedly refused to let go of the dog.
When deputies made their way inside a gate to intervene in the argument, Lyle allegedly released the dog and pushed it toward the deputies. One of the two deputies managed to get back outside the fence, but the other wasn't so lucky.
Fox said the pit bull bit through the deputy's work boot and punctured the skin on his foot. When the dog released its bite, the deputy scrambled back out of the gate and waited with his partner for more deputies to arrive on the scene.
Eventually, Lyle put the dog inside and gave up the child, allowing himself to be placed under arrest. He was arraigned at the Washtenaw County Jail on Tuesday.
Each felony charge of assaulting, resisting or obstructing a police officer carries a maximum punishment of 20 years in prison or a fine of $20,000. The misdemeanor assault and battery charge carries up to 93 days in jail and a $500 fine.
Lyle is scheduled to be back in court for a preliminary exam at 8:30 a.m. Tuesday, according to court records.