Posted on
Thu, May 9, 2013 : 5:56 a.m.
Man charged in July shooting faces new charges of witness intimidation
By Kyle Feldscher
The man accused of shooting a man in an Ypsilanti Township apartment last year faces two more felony charges alleging he attempted to have his girlfriend get the victim to recant his statement.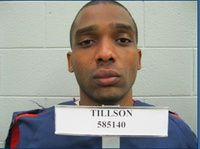 Courtesy of the state of Michigan
Christopher Tillison
, 26, is now charged with two counts of intimidating, threatening or bribing a witness, according to court records. Washtenaw County Sheriff's Office Sgt. Geoffrey Fox said the charges were filed because Tillison attempted to have his girlfriend talk to the shooting victim, with the goal of having the victim recant his statement identifying Tillison as the shooter.
"He was talking to his girlfriend, trying to convince his girlfriend to track down the victim and have the victim recant his statement in terms of identifying Tillison as a suspect," Fox said.
Tillison is charged with shooting the man during a robbery on July 10 in the 300 block of Bedford Drive, a street in the Huron Ridge apartments, in Ypsilanti Township. The man was shot during an apparent robbery and another man was hit by a car after the shooting.
A second person was said to be involved in the incident, but no one was ever arrested or charged in the incident other than Tillison.
Court records show a warrant was filed Wednesday for the new charges of intimidating a witness. Tillison had not been arraigned on those charges as of Wednesday morning. He's held at the Washtenaw County Jail on a $500,000 cash bond in the shooting case, records show.
The offense date for the new charges is listed as March 23 in the court records.
Fox said Tillison's girlfriend also faces charges of intimidating, threatening or bribing a witness. Details on a warrant being filed against her were not immediately available Wednesday.
The shooting took place exactly three months after Tillison was paroled. He has seven previous felony convictions, according to state records. Charges of assaulting, resisting or obstructing a police officer; possession of less than 25 grams of cocaine; receiving and concealing stolen property between $1,000 and $20,000 and two charges of second-degree home invasion stem from a March 19, 2009, incident, records show.
He also has a conviction for receiving and concealing a stolen motor vehicle on July 21, 2007, and for unarmed robbery on Oct. 20, 2005.
He was set to be discharged from probation on April 10, 2014.
Tillison originally had a trial scheduled for April 22, but that was adjourned after a court order was filed allowing Tillison to get a new attorney, records show. He's scheduled to return to court on the shooting case at 1:30 p.m. June 18 in front of Washtenaw County Trial Court Judge Donald Shelton.
He faces a charge of assault with intent to murder, as well as three armed robbery charges and charges of first-degree home invasion, being a felon in possession of a firearm and possession of a firearm during the commission of a felony.
Kyle Feldscher covers cops and courts for AnnArbor.com. He can be reached at kylefeldscher@annarbor.com or you can follow him on Twitter.