Posted on
Sat, Aug 17, 2013 : 11:44 a.m.
Man charged with arson for setting construction crane on fire
By John Counts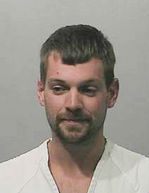 Courtesy of Washtenaw County Jail
A 30-year-old Ypsilanti man who police say set a construction crane on fire was charged Friday with arson in the 14A-1 District Court.
James Henry McPherson was arraigned on counts of arson, third-degree arson of property more than $20,000 and malicious destruction of property between $1,000 and $20,000.
Magistrate Elisha Fink freed McPherson on a $5,000 personal recognizance bond and appointed him a public defender.
McPherson said he is homeless and was using his parents' Ypsilanti address for mail. He told Fink he has no job and no source of income.
"I'm in between jobs right now," he said. "I don't have money for an attorney. I'm struggling with drugs and alcohol."
Fink said McPherson had pervious convictions related to drunken driving and marijuana use.
McPherson is accused of sneaking onto the site where crews are rebuilding the Ford Boulevard bridge in Ypsilanti Township and somehow popping open the fuel compartment on the crane and setting it ablaze, said Sgt. Geoff Fox of the Washtenaw County Sheriff's Office.
McPherson is also accused of slashing tires on several vehicles at the site.
This isn't the first time the construction site has been vandalized since the project started in April, but all the counts stem from Wednesday night's incident.
Firefighters arriving at the scene around 9 p.m. said flames from the crane fire reached 20 feet into the sky.
Police located McPherson a short time later as he walked down East Michigan Avenue near the work site.
"He was highly intoxicated," Fox said.
Investigators were not immediately sure what the motivation was to light the crane on fire beyond vandalism, Fox said.
The crane was destroyed. Officials have said it may have cost about $1 million when new, but weren't sure what it was worth now.
The crane was one of two at the site of the Ford Boulevard bridge replacement project being used to prepare the new bridge deck for concrete, according to officials with the Washtenaw County Road Commission. Work has been halted until the contractor, Davis Construction, can find a new crane to rent.
The work site is not fenced, according to officials.
The $2.6 million project was slated to be finished at the end of August.
Arson and third-degree arson are both felonies punishable by up to 10 years in prison and fines. Malicious destruction of property from $1,000 to $20,000 is punishable by up to five years in prison.
John Counts covers cops and courts for AnnArbor.com. He can be reached at johncounts@annarbor.com or you can follow him on Twitter.