Posted on
Mon, Mar 25, 2013 : 2:40 p.m.
Man faces court hearing in rape of acquaintance, break-in at her home
By Kyle Feldscher
A 54-year-old Ypsilanti man faces a preliminary examination Tuesday on charges he broke into a woman's house, raped her and physically assaulted her.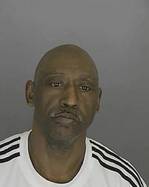 Courtesy of WCSO
Ypsilanti police Detective Sgt. Tom Eberts said Derrick King used a key sometime after midnight on Feb. 3 to enter the home of a woman he had dated. Eberts said King used to live at the residence in the 700 block of Washtenaw Avenue.
Eberts said King grabbed the woman's phone away from her as she tried to call police and prevented her from leaving.
"He kept her there during the night and sexually assaulted her and physically assaulted her," Eberts said.
King is charged with two counts of first-degree criminal sexual conduct and a charge each of first-degree home invasion, intimidating a witness, interfering with electronic communications and domestic violence, court records show.
A preliminary exam is scheduled for 8:30 a.m. Tuesday at the 14A-1 District Court in Pittsfield Township. King is held at the Washtenaw County Jail on a $50,000 cash or surety bond.
Eberts said there was a prior history of domestic abuse in the relationship, which had been taking place for the last three years.
The criminal warrant was approved against King on Feb. 12, but he wasn't arraigned on charges until March 13. Eberts said he was arrested after contact with Ann Arbor police the day before his arraignment.
The woman refused medical treatment, Eberts said.
King has a long criminal history, dating back to a shoplifting conviction in 1990. In addition, he's been convicted of delivery/manufacture of a narcotic less than 50 grams in 1992, first-degree retail fraud in 1993, two counts of armed robbery in 1993 and two1993 convictions of possession of a firearm during the commission of a felony, state records show.
He was in prison from Aug. 1993 until Oct. 2011 on the 1993 convictions, which all stem from an incident on April 23, 1993,, records show. He was sentenced to from 17 to 32 years in prison for those convictions.
Kyle Feldscher covers cops and courts for AnnArbor.com. He can be reached at kylefeldscher@annarbor.com or you can follow him on Twitter.