Posted on
Tue, Nov 13, 2012 : 9:50 a.m.
Man pleads guilty to Ypsilanti Township armed robbery; co-defendant to face trial
By Kyle Feldscher
After being given a week to consider a plea offer, one of the men implicated in an armed robbery in Ypsilanti Township decided to take it while his co-defendant will go to trial.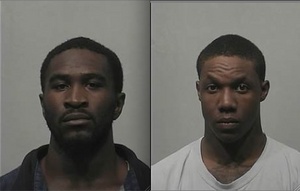 Courtesy of the Washtenaw County Sheriff's Office
Deandre Mitchell, 20, pleaded guilty to armed robbery Thursday in exchange for charges of conspiracy to commit armed robbery and possession of a firearm during the commission of a felony being dismissed. However, Eddie Nailor, 20, decided to decline the plea offer from Washtenaw County prosecutors and will face trial on an armed robbery charge in January.
Mitchell and Nailor are accused of robbing a man outside the Lakeshore Apartments in Ypsilanti Township early on Sept. 14. Deputies said the man went to the complex to see a woman — reported to be Amber Davis — and hang out with a friend. The man went to Davis' apartment and then went to see his friend, but Davis called him a short time later and told him to come back to her place.
Nailor and Mitchell are accused of robbing the man of cash at gunpoint. Afterward, the two men allegedly ran from the area.
On Nov. 1, prosecutors said Nailor and Mitchell each had one week to consider the plea offer. They both declined an earlier plea deal at the preliminary exam stage.
Nailor is scheduled to return to court at 1:10 p.m. Jan. 17 for a final pretrial hearing before standing trial at 8:30 a.m. Jan. 28, court records show.
Mitchell is scheduled to be sentenced by Washtenaw County Trial Court Judge David Swartz at 1:30 p.m. Nov. 29. The maximum sentence for armed robbery is life in prison.
Both men are held at the Washtenaw County Jail.
Kyle Feldscher covers cops and courts for AnnArbor.com. He can be reached at kylefeldscher@annarbor.com or you can follow him on Twitter.