Posted on
Mon, Dec 17, 2012 : 5:12 p.m.
Man sentenced to up to 15 years for assaulting woman, locking her in trunk of a car
By Kyle Feldscher
The man convicted of assaulting a woman with a knife and trapping her in the trunk of her car will serve between 10 and 15 years in prison.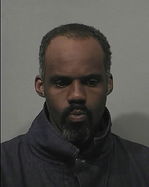 Courtesy of the Washtenaw County Sheriff's Office
On Monday, a jury convicted David Neal, 39, of charges of assault with intent to do bodily harm less than murder, assault with a dangerous weapon, unlawful imprisonment and interfering with the reporting of a crime on Nov. 14. Neal also was charged with two counts of first-degree criminal sexual assault and assault with intent to murder and the jury found him not guilty on those counts.
Neal had been accused of assaulting, raping and imprisoning a woman in a crack-cocaine induced rage on May 17. Despite the convictions, Neal defiantly told Washtenaw County Trial Court Judge Melinda Morris he maintained his innocence on all charges.
"I'm not guilty," Neal said, his only statement in court Monday.
Neal was sentenced to 10 to 15 years in prison on the assault with intent to do bodily harm less than murder and unlawful imprisonment charges. On the assault with a dangerous weapon charge, Neal was sentenced to four to six years in prison. He was sentenced to 214 days in jail on the charge of interfering with the reporting of a crime charge, the amount of time he's been in the county jail since his arrest.
Neal was convicted of holding a utility knife against the throat of the woman while she ordered more crack cocaine for them to smoke. The two of them had known each other for a short period of time and the two of them had been smoking crack at a home Neal was working on in the 1300 block of Nash Avenue in Ypsilanti Township's West Willow neighborhood.
The woman testified Neal raped her repeatedly throughout the morning of May 17, but a jury unanimously found some element of consent to sexual activity was given, Morris said during her remarks. However, the jury agreed in November Neal did hold a knife against the woman's throat.
The jury also found Neal tied the woman up with an extension cord around her feet and duct tape around her hands, mouth and eyes before eventually putting her in the trunk of her own car. The woman eventually escaped and ran to a neighbor's home and got them to call police.
The woman, who AnnArbor.com is not identifying because of the serious nature of her allegations, told Morris the months since the attack have been the hardest of her life.
"I have nightmares, I've gone to therapy and I don't know where to turn at this point in my life," she said.
She maintained she was raped, despite the jury's findings, and spent most of the hearing in tears.
Washtenaw County Assistant Public Defender Stephen Adams, Neal's attorney, emphasized the fact the jury found Neal innocent on the rape charges. Adams also disputed whether Neal's actions could be defined as sadistic in nature and, after Morris ruled they were, said he thought the impact that ruling had on the sentence made too much of an impact.
"It strikes me to be an awfully severe sentence … as the probation department recommended," he said.
However, Morris said Neal's actions had made a potentially lifelong impact on the woman. She said she wouldn't speculate on what his motivation for the attack was, but it was abhorrent.
"I don't know if you have such contempt for yourself that you projected it on her," she said.
Kyle Feldscher covers cops and courts for AnnArbor.com. He can be reached at kylefeldscher@annarbor.com or you can follow him on Twitter.