Posted on
Fri, May 3, 2013 : 8 a.m.
Man to serve up to 65 years for torturing 3-year-old boy
By Kyle Feldscher
The 22-year-old Ypsilanti Township man convicted of torture and child abuse will spend between 31 and 65 years in prison, a judge ruled this week.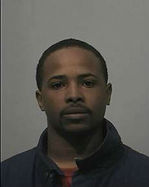 Courtesy of the Washtenaw County Sheriff's Office
Harvey Wince was convicted March 21 by a jury in his second trial after his original trial ended with a hung jury. On Monday, Washtenaw County Trial Court Judge Darlene O'Brien sentenced him to prison on a count of torture, one count of first-degree child abuse and one count of assaulting, resisting or obstructing a police officer, court records show.
Wince will serve between 31 years and eight months and 65 years in prison on the torture charge. His sentence of 10 to 15 years in prison for the first-degree child abuse charge will be served concurrently with the torture sentence. He received credit of one year, one month and 28 days on that sentence.
O'Brien also sentenced Wince to 10 months and 16 days in jail for the assaulting, resisting or obstructing police charge with credit for time served.
Wince was convicted of severely burning a 3-year-old boy who he was baby-sitting on April 1, 2012. According to police, Wince was watching the boy for his girlfriend at a home in the 8900 block of MacArthur Boulevard in Superior Township. The girlfriend was usually the primary baby sitter.
Investigators said Wince intentionally placed the boy in scalding hot bath water, holding him there and causing severe burns. The temperature of the water was estimated between 120 and 125 degrees.
The boy's mother testified at a preliminary exam that his skin was falling off. The boy was treated at University of Michigan Hospital's intensive care burn unit from April 1 until May 21, 2012, for burns that covered 18 percent of his body.
Wince told police he put the boy in the bathtub, in ankle-deep water that was lukewarm, while he went to play the video game "Call of Duty." Wince said he returned to the bathroom later and found the boy standing in the bathroom with "soggy" skin. He said the boy turned the hot water on himself.
Wince was charged on April 4, 2012 and his original trial ended in a hung jury on Nov. 5, 2012.
Kyle Feldscher covers cops and courts for AnnArbor.com. He can be reached at kylefeldscher@annarbor.com or you can follow him on Twitter.