Posted on
Sun, Dec 11, 2011 : 10:03 a.m.
Man will face trial on two home invasion cases in January
By Kyle Feldscher
A man formerly on Washtenaw County's 'Most Wanted' list is scheduled to go to trial on two separate cases next month and his defense team will not receive money to hire an expert on eyewitnesses.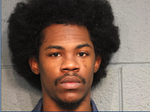 Courtesy of the Michigan Department of Corrections
Troy Lewis, 21, will go to trial on Jan. 17 and Jan. 23 in Washtenaw County Trial Court Judge David Swartz's courtroom, according to a court ruling Thursday. Lewis is facing charges for incidents relating to home invasions earlier this year.
In the Jan. 17 trial, Lewis is charged with two counts each of armed robbery and first-degree home invasion and one charge each of carrying a weapon with unlawful intent, possession of a firearm by a felon, discharging a weapon in a building, assault with a dangerous weapon and a felony firearms charge.
The charges stem from a March 9 incident where Lewis and an accomplice allegedly knocked on the door of a residence at about 12:50 a.m. in the 100 block of Riley Court.
The two men asked for a man who didn't live there and then asked for a man who the victim knew, before allegedly kicking down the door and pointing handguns at the victim, police said. The victim was also allegedly struck in the head with the butt of the gun, police said.
According to police, the gun fired one shot but did not hit anyone. Lewis and his accomplice allegedly took an unknown amount of money and left the area, police said.
In the Jan. 23 trial, stemming from a Jan. 14, 2011, incident, Lewis is charged with three counts of first-degree home invasion, a charge each of assault with intent to rob, assault with a dangerous weapon, a felony firearms charge and a felon being in possession of a firearm.
Lewis will have a pretrial hearing on Jan. 12 for a case where he allegedly assaulted and resisted a police officer on June 14 in the Sycamore Meadows apartment complex.
The other two cases will have final pretrial hearings on Jan. 12 as well.
Washtenaw County Assistant Public Defender Christopher Renna asked Swartz for permission to get funds to pay for an expert on eyewitness identifications at crime scenes. Renna said there was some doubt in his mind that the identifications given by witnesses to police in one of the alleged home invasions were valid.
Swartz denied that motion because, "this is not a case where the testimony of an expert would be necessary," he said.
Kyle Feldscher covers cops and courts for AnnArbor.com. He can be reached at kylefeldscher@annarbor.com or you can follow him on Twitter.