Posted on
Wed, May 1, 2013 : 2:59 p.m.
Renovations underway at Ypsilanti McDonald's
By Katrease Stafford
The McDonald's on Ecorse Road in Ypsilanti is undergoing renovations that will include adding a second ordering board and constructing a stone facade. The renovations come a few months after receiving approval from the city's planning commission to move forward.
Monique Vann-Brown, the McDonald's owner and operator, said it will remain open during the renovations, which will be completed by mid-May.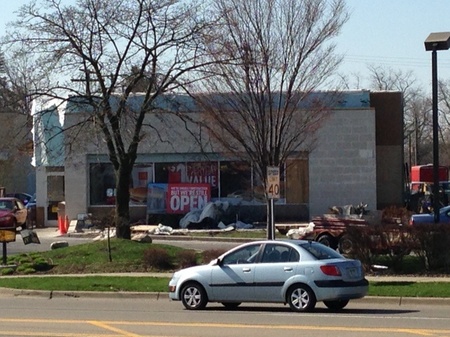 Paula Gardner | AnnArbor.com
On Sept. 9 2012, McDonald's, represented by Greg Lautzenheiser of L+A Architects, submitted a site plan approval request to construct an additional ordering board and reduce its number of parking spaces.
The 5,000-square-foot restaurant, at 16 Ecorse Road, sits on about one acre of land on the southwest corner of Ecorse and Michigan Avenue, east of Center Street.
The restaurant has one stand-alone ordering station with 37 parking spaces. McDonald's applied to reduce the number of parking spaces to 32 and construct an additional stand-alone ordering board.
The existing drive thru is directly to the south of the building, but the additional order station will require both to be located slightly to the southwest side.
The property initially went through a full site plan review as part of a full site "scrape and rebuild" in 2004 and 2005, but only minor modifications will take place at this time. It's unclear if more renovations will occur over time.
In addition to the ordering board and reduction in parking spaces, a stone facade also is being constructed.
City staff said the addition of the order station requires the parking space removal and the stone facade construction will require work to the foundation.
Lautzenheiser told the city that McDonald's will also add new landscaping details to the location, such as new trees and the Center Street pedestrian ramp will be revamped.
The assessed value of the building is $316,100, making its market value $632,200. The property was purchased in 1979 for $200,000 by Franchise Realty Interstate Corp., according to city records.
"At McDonald's, we are committed to meeting the changing needs of our customers, and providing them freshly prepared, quality food served in an environment that is modern, enjoyable and comfortable," Vann-Brown said in a statement. "We hope that people in the community enjoy the contemporary updates designed to enhance the customer experience."
Katrease Stafford covers Ypsilanti for AnnArbor.com.Reach her at katreasestafford@annarbor.com or 734-623-2548 and follow her on twitter.