Posted on
Fri, May 17, 2013 : 1:49 p.m.
Michigan Fireworks Act being revisited to allow cities to ban overnight usage
By Katrease Stafford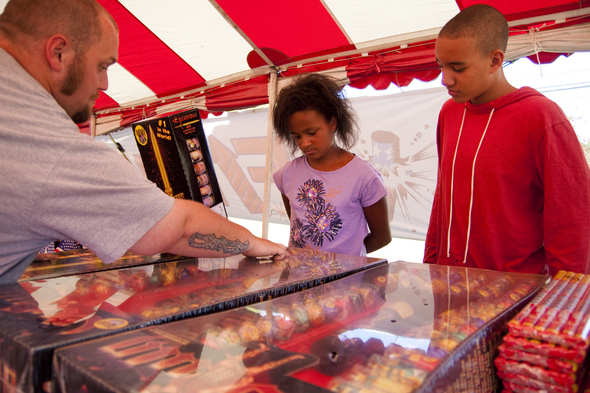 Jeffrey Smith | AnnArbor.com
Michigan's Fireworks Safety Act led to several noise complaints around the state last summer and possibly could be modified to allow some municipalities to ban overnight usage, MLive reported.
The Michigan Fireworks Safety Act went into effect Jan. 1, 2012, prohibiting some ordinances restricting usage of fireworks on the day before, of and after a national holiday — a total of 30 days a year. That act also legalized previously illegal "aerial" explosives like bottle rockets.
MLive reported that the provision frustrated local officials around the state — many of whom had received complaints from residents.
Democratic State Rep. Harold L. Haugh of Roseville introduced House Bills 4743 and 4744 Thursday, which would allow a local unit of government to enact an ordinance prohibiting the use of consumer-grade fireworks between midnight and 8 a.m. on those 30 days, which he believes will help to curb unwanted behavior.
AnnArbor.com reported the 2012 law allows certified vendors to sell airborne consumer-grade fireworks, including bottle rockets and roman candles. Vendors who sell those types of fireworks are required to pay an application fee, as well as collect a sales tax and an additional six percent safety fee for the state.
The new legislation seeks for the money collected from the safety fee to be distributed for training and local inspections and cracks down on those who avoid paying sales tax or safety fees.
AnnArbor.com has reported both Ann Arbor and Ypsilanti have similar noise ordinances. From 7 a.m. to 10 p.m., there is a 61-decibel limit in a residential neighborhood. From 10 p.m. to 7 a.m., it's lowered to 55 decibels.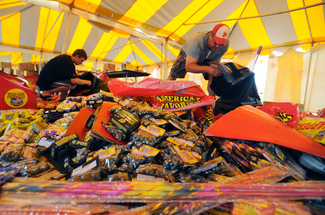 Last year, the Ann Arbor Police Department enforced the noise ordinance during Fourth of July weekend as usual.
Sgt. Kevin Murphy of the Saline Police Department said at the time, the law was "somewhat ambiguous."
Former Ypsilanti Fire Chief Jon Ichesco called the aerial fireworks "misguided missiles."
Ischesco said at the time that he thought there may be more injuries, fires and people ending up in court due to the fireworks.
Fireworks were cited in two fires on the Fourth of July.
In February, the city of Ypsilanti banned consumer fireworks after receiving numerous complaints from residents about excessive noise. However, they still are allowed on national holidays, the day before a national holiday and the day after a national holiday within city limits.
"There were some fireworks on Christmas Day at 10 p.m. at night," said Council Member Ricky Jefferson in February. "During the Fourth of July month they were blasting until 3 a.m. in the morning. When it comes to disturbing the peace, something has to be regulated."
Katrease Stafford covers Ypsilanti for AnnArbor.com.Reach her at katreasestafford@annarbor.com or 734-623-2548 and follow her on twitter.