Posted on
Tue, Jan 17, 2012 : 5:59 a.m.
10 years later: Jason Sizemore's family losing hope that his killer will be caught
By Kyle Feldscher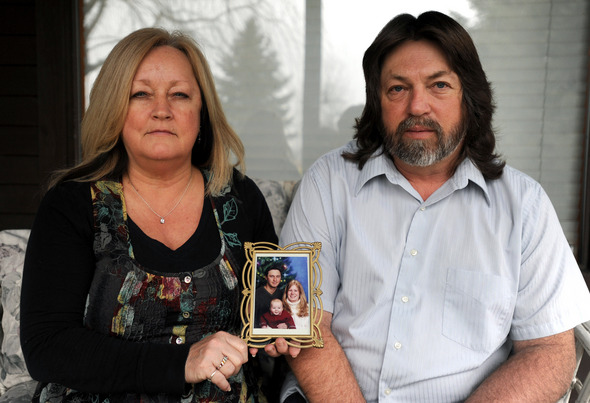 It's a sequence of events no parent should have to endure.
A son stabbed to death at the age of 27, his suspected killer escaping back to his native country and no resolution to the investigation. But that's where Becky and Kermit Sizemore are left since the night of June 16, 2001.
Their son, Jason Sizemore, died following an argument at an Ypsilanti Township bar that night and the man that police say wielded the knife, Mark Chiell Pinnace, escaped capture. Pinnace fled to his native Honduras and, due to a lack of extradition treaties between that government and the United States, police are unable to arrest him for the crime.
More than 10 years later, the Sizemores have lost hope that their son's alleged killer will ever be brought to justice.
Courtesy of CrimeStoppers
"Do I think he'll be arrested? No," Becky Sizemore said. "It's been that long and he's still out there. Who knows, he may be dead, I don't know, nobody knows.
"They say they know where he is, but do they really?"
"They closed Ypsi down"
The Sizemores described Jason as a good friend to a lot of people and they couldn't imagine him having an enemy anywhere in the world.
Jason Sizemore's importance to the people who met him shined through on the day of his funeral back in 2001. The Sizemores fondly recalled so many people showing up to Victorious Life Church in Ypsilanti Township that speakers had to be set up outside for the gathered crowd to hear the service.
Kermit Sizemore said the funeral procession was miles long.
"When the last car was pulling out of (the church's) parking lot, we were just crossing Michigan Avenue," he said. "Every street was closed down."
Jason Sizemore worked at the Visteon Plant in Ypsilanti Township and he became a father himself just 10 months before he died.
His mother said they don't see their grandson Peyton, who is now 11, as much as they'd like since their son was murdered.
Even though they say they've become numb, they can't help but think of how different life would be if their son were still alive.
"His son will never know what an awesome dad he had," Becky Sizemore said through tears. "That's the hardest part, him not knowing his dad like he should have. It's hard for us."
Becky Sizemore added that the family loves and appreciates Peyton's mother Lisa Beard, but she wishes that Beard and her son were in the Sizemores' life more.
Jason Sizemore was the type of person who only would have gotten involved in the argument at the bar that night in order to break it up, according to his mother
"He went over there to break it up and chairs were flying and all this and that and, next thing you know, this guy pulls a big knife out that he had hid and killed my son," she said.
A fight about a bet
The family's lack of hope dates back to the night of their son's death in late spring 2001.
Jason Sizemore went to the Player's Lounge at the Marriott at Eagle Crest in Ypsilanti Township with some friends to watch the NBA playoffs, according to Becky Sizemore. Some of his friends went to play pool and got in an argument with Mark Chiell Pinnace and his brother about a $20 bet, she said.
According to a posting on the CrimeStoppers website, Pinnace told a staff member at the bar he was having problems with one of Sizemore's friends and he would "make someone famous" if nothing was done. According to the website, staff members watched the group but everything appeared to be under control.
Later on in the night, Sizemore and another man went over to the pool table to see what was going on after being told his friend was having a problem with one of the men, the website states.
A fight broke out — police say Jason Sizemore stuck Pinnace, knocking him to the ground and his family says he was trying to break the fight up. As Pinnace got up, he took out a knife and stabbed Sizemore several times before running out of the bar and onto the golf course, according to police.
Sizemore took several steps after Pinnace, but collapsed from blood loss, Becky Sizemore said. Some of Sizemore's friends chased Pinnace, but he turned and threatened them with the knife as well, she said. Eventually, Pinnace escaped into the darkness.
"It (was) totally useless and needless," Becky Sizemore said.
It's still difficult for the Sizemores to talk about their son's death. Kermit Sizemore refuses to discuss the night and tears well in his eyes at the very thought. While Becky Sizemore is able to talk about the incident, it remains a very emotional subject.
Becky Sizemore said she and her husband have grown increasingly numb as time has gone on and, even though it's something they must live with every day, they do their best to not think about the killing.
Pinnace is believed to be living in Honduras, his native country. Police said the only thing keeping them from bringing Pinnace to justice is the fact that the United States does not have an extradition treaty with Honduras, meaning there's nothing they can do unless he comes into a neutral country.
The inability of law enforcement to arrest their son's alleged killer only adds to the family's increasing numbness.
"It's just the system. It's just bogged down and overloaded, what are you going to do," Kermit Sizemore said.
"Really, what can they do? With our laws, what can we do?"
Investigators hit a wall
The answer, coming from Det. Sgt. Patrick Bell of the Washtenaw County Sheriff's Office, is not much.
Bell, who is the lead investigator in the case, said he believes police have enough evidence to arrest Pinnace and get a conviction in the case. There's a warrant out for Pinnace's arrest and the sheriff's department is partnering with the Federal Bureau of Investigation to bring Pinnace to justice.
Pinnace has been on the list of Washtenaw County's Most Wanted longer than anyone else currently on the list.
However, Bell said that as long as Pinnace is in Honduras, there's nothing authorities can do.
"We're kind of in a hold position," Bell said. "We know where our suspect is, but he is in a location where we have no extradition treaty with that nation."
Bell said the department is in a similar situations as many other police agencies around the country — particularly in California, Texas and other states near the Mexico-U.S. border — where suspects have fled to their home nations.
The lack of progress in the case has all but ended communications between the sheriff's office and the Sizemores. Becky and Kermit Sizemore said, before this week, it had been five years since someone with the Washtenaw County Sheriff's Office had spoken to them about the case.
While Bell attributed that silence to the simple fact that there was nothing new to tell the family in that time period, it bothers the Sizemores.
"I don't think they care any more," Becky Sizemore said. "I think it's been 10 years and they just let it go. I really don't think they're doing anything."
Bell said he's been hesitant to contact the Sizemores and admitted that it had been a long time since he had been in touch with them.
"We're kind of hesitant to continue to call them to let them know we haven't had this much progress or to tell them, 'Hey this is where we're at,'" he said. "Nothing has changed since he fled the country that I can really tell them."
The case is not considered a cold case, despite the fact that more than a decade has passed since the incident. Bell said the case is still active because the leads in the case have never run out and there is still a suspect.
However, unless a change in foreign policy comes, there won't be any resolution to this crime, Bell said.
"It's really going to be up to the people in this country to force our government and legislators to take a different role in regards to how these different nations have their treaties drawn up," Bell said.
"That's the only way this thing will change."
Kyle Feldscher covers cops and courts for AnnArbor.com. He can be reached at kylefeldscher@annarbor.com or you can follow him on Twitter.