Posted on
Mon, Jan 7, 2013 : 1:37 p.m.
More than 40 firefighters battling apartment complex fire
By Kyle Feldscher
Flames shot through the roof and heavy black smoke billowed from a building at the Schooner Cove Apartments Monday afternoon as more than 40 firefighters from several departments battled a blaze at the complex in Ypsilanti Township.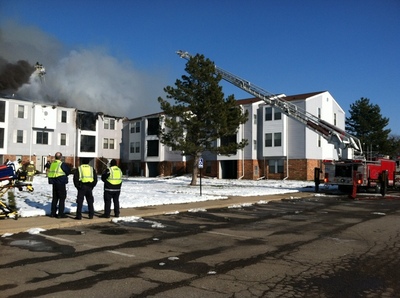 Joe Tobianski | AnnArbor.com
Pieces of siding and gutters fell from the L-shaped three-story apartment building off Huron River Drive as firefighters poured water on it from aerial ladder trucks.
Residents had been evacuated, and Huron Valley Ambulance spokeswoman Joyce Williams said she did not believe anyone had been taken to the hospital.
Schooner Cove fire
Complete coverage of the fire at the Ypsilanti Township apartment complex
Shortly after 1:30 p.m., firefighters could be seen rescuing a cat that had been sitting on a third-floor window sill. Firefighters extended a ladder to the window and used it to smash the glass. The cat ran away, but one firefighter reached far into the apartment to grab it while another held onto his legs.
They brought the cat down and and handed it to a neighbor, who wrapped it in a blanket and took it inside.
Another firefighter was holding a dog that was also taken from the building.
Firefighters from Ypsilanti Township, Ypsilanti, Ann Arbor, Pittsfield Township, Augusta Township and Superior Township and paramedics from Huron Valley Ambulance were among those who responded to the blaze, which broke out about 1 p.m.
By about 2:30 p.m., firefighters had knocked the blaze down with only hot spots remaining.