Posted on
Thu, May 2, 2013 : 11:47 a.m.
Nearly 80 tires illegally dumped on Midas auto repair property in Ypsilanti
By Katrease Stafford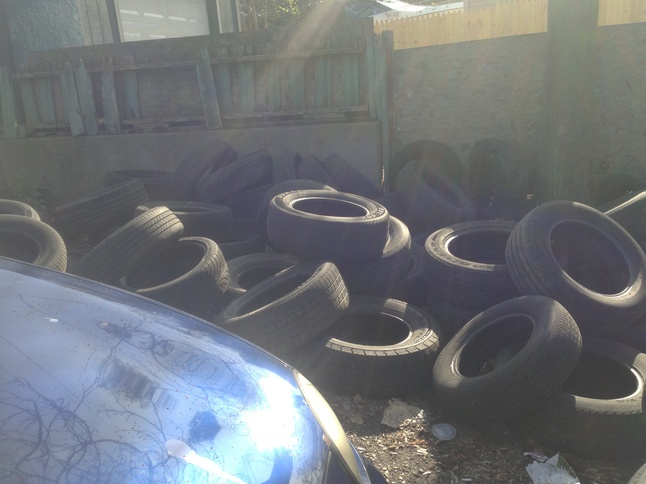 Katrease Stafford | AnnArbor.com
About 80 tires were illegally dumped overnight Wednesday at the Midas auto repair shop in Ypsilanti and the owner said it wasn't the first time something like this happened.
"This has happened quite a bit over the last year," said owner Rusty McIntyre. "We've been in touch with the police and they'll say they'll try to patrol the area. It's only three houses in the area and it's in an alley that's not lit. It's pretty much easy pickings."
The Ypsilanti Police Department said in a crime summary Thursday morning that someone dumped the damaged tires behind the business at 404 E. Michigan Ave. The tires are still on the property in the back lot. McIntyre is working to get them removed.
The police department could not be reached for comment.
McIntyre said he's spoken with police several times, and they informed him investigators were working to figure out who is responsible for the dumping.
"What happened this time, there was a tire in the pile that had an Ann Arbor BMW sticker on it, so we called them," McIntyre said. "We called the parts department and the guy said it might be a tire they put in their scrap bin and they didn't keep it locked. Finding a label made me call them to see if they had a particular hauler."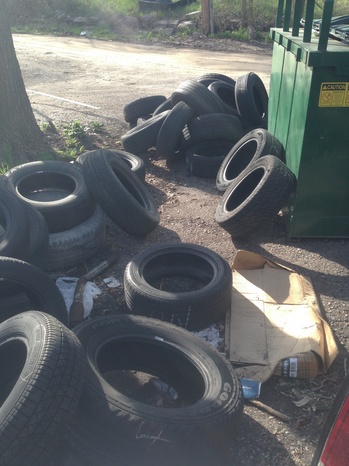 Katrease Stafford | AnnArbor.com
McIntyre said he believes someone is going around to local dealerships and car part stores and looking in the scrap bins for sellable tires.
McIntyre said he believes it could possibly be a tire hauler from the Detroit area.
"They're picking up ones they can use and dumping the ones they can't use," McIntyre said. "They've dumped over a hundred over the last year. It's a tire guy that's picking them up and most of the time, there are no good tires. They just bring them from wherever they're looking and dump them on our property."
McIntyre said the dumping is affecting his business because he has to pay to have the tires removed from his property, which can be expensive.
"We pay a hauler just like anyone does," McIntyre said. " When we get 25 to 30 tires, he'll come by and pick them up and we pay, but all of a sudden when you get 80 or 100 dumped tires, it gets pretty expensive."
McIntyre said the city has also issued notices telling him to clean up the property.
"The city gets on you, too, for having clutter," McIntyre said. "They came in before and saw all the tires and gave us a notice to get them all cleaned up."
McIntyre said he may consider alternatives, such as fencing the area in, but he hasn't decided yet.
"It would be nice to stop this," McIntyre said. "It could be a fire hazard."
Katrease Stafford covers Ypsilanti for AnnArbor.com.Reach her at katreasestafford@annarbor.com or 734-623-2548 and follow her on twitter.