Posted on
Tue, Apr 30, 2013 : 12:56 p.m.
Afghan crash saddens workers at Willow Run Airport, where cargo company was once based
By Katrease Stafford
As investigators seek to determine what caused the crash of a U.S.-run civilian cargo plane in Afghanistan, an official at Willow Run Airport Tuesday said the crash had saddened workers at the facility, where the plane's operator was formerly based.
Seven people, five from Michigan, were killed when the plane crashed Monday shortly after takeoff at an airfield in Afghanistan. Officials have said the National Transportation Safety Board will assist in an investigation to determine the cause.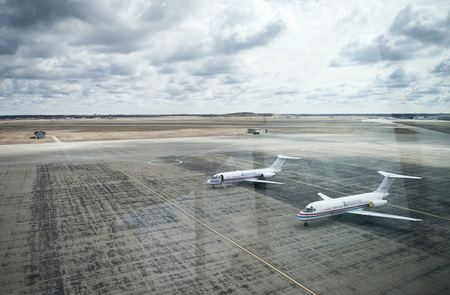 Daniel Brenner | AnnArbor.com
The Florida-based cargo company, National Airlines, said its Boeing 747-400 plane crashed at about 7 a.m. EST at the Bagram Air Field, just north of the Afghan capital.
National was based at the Willow Run Airport, located in Ypsilanti Township and Wayne County's Van Buren Township, until January of this year. The company relocated to Orlando, Fla.
Scott Wintner, spokesperson for the Willow Run Airport and public affairs manager at the Wayne County Airport Authority, said people at the airport was shocked and saddened to hear of the accident.
"Everyone here is saddened to hear the news, particularly with a Michigan connection, but any time there's a loss of life within the aviation community, it mourns," Wintner said. "Our hearts and minds are with the families and those affected by the crash."
The international cargo flight was destined for Dubai World Central — Al Maktoum International Airport, Dubai, United Arab Emirates, according to the NTSB.
Wintner said Willow Run has several other cargo aircraft companies based out of the airport, including Kalitta Air and Kalitta Charters, as well as Active Aero. He said he couldn't confirm whether those airlines deliver cargo to areas within the Middle East as well.
Ypsilanti Township Supervisor Brenda Stumbo said her thoughts and prayers are with the families, friends and co-workers of those who died in the tragic airplane crash.
"The pain of losing loved ones will be felt by many in our community, state and country but most of all by their families," Stumbo said. "We are truly sorry for their loss."
The NTSB announced early Tuesday afternoon that Senior Air Safety Investigator Tim LeBaron will be the U.S. accredited representative to work alongside the Afghanistan Ministry of Transportation and Commercial Aviation. LeBaron will lead a team of three additional investigators from the NTSB as well as representatives from the Federal Aviation Administration and The Boeing Company, the NTSB said in a statement.
"Safety is always our top priority at National Airlines," said National Airlines President Glen Joerger in a statement. "This is a devastating loss for our family and we'll work diligently with authorities to find the cause. Most importantly, our thoughts and prayers are with our crewmembers and their families."
Names and hometowns of the victims are not being released yet, but National said in a statement it will release additional information as it becomes available, "in cooperation with government authorities."
All seven crewmembers onboard were killed and the airplane destroyed. The seven crew members were all American citizens. They included four pilots, two mechanics and a load master.
The Detroit News reported that one of the pilots was Brad Hasler, 34, who got married April 14 at a Detroit restaurant in a small family ceremony. Hasler and his wife, Robin, are the parents of a 1-year-old daughter, Sloane.
"This was a purely cargo flight and no passengers were aboard," the company said in a statement. "Cargo consisted of vehicles and routine general cargo."
The company said at this point, it is focused on assisting the NTSB and the Afghanistan Civl Aviation Authority in their investigations. The cause of the accident is unknown at this point, the company said.
National Airlines is a subsidiary of National Air Cargo and carries cargo both commercially and for the military and employs about 225 people.
The National Airlines Family Information Call Center has been activated to support any family members requiring information.The National Airlines Family Information Call Center number is 888-705-7560.
Katrease Stafford covers Ypsilanti for AnnArbor.com.Reach her at katreasestafford@annarbor.com or 734-623-2548 and follow her on twitter.