Posted on
Tue, Apr 23, 2013 : 4:59 p.m.
Neighbor wakes up resident, allowing escape from burning home
By Kyle Feldscher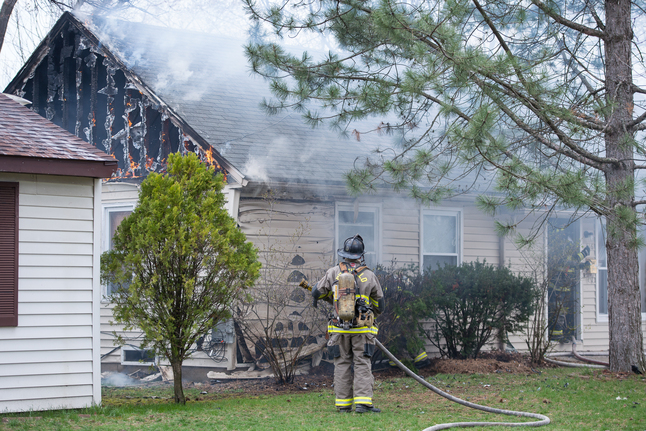 Courtney Sacco | AnnArbor.com
A neighbor noticed smoke coming from an Ypsilanti Township home and woke up her neighbor in time for the resident to get out of the burning home without injury, a fire official said Tuesday.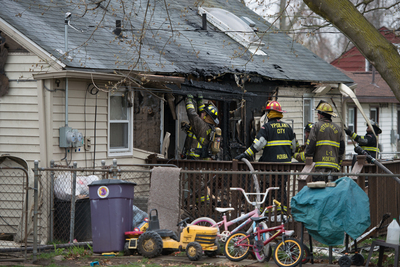 Courtney Sacco | AnnArbor.com
Ypsilanti Township Fire Chief
Eric Copeland
said firefighters went to the home in the 500 block of Hudson Avenue after a neighbor reported seeing heavy smoke coming from the home. Copeland said the fire started on the outside of the home and spread into the walls and attic.
The neighbor went across the street and pounded on the front door of the home, waking up the resident, Copeland said.
No one was injured in the blaze. The fire moved from north to south across the home and gutted the attic of the single-story house.
Copeland didn't have an exact dispatch time at the scene of the fire Tuesday, but said the call came in about 4 p.m. By the time he arrived on the scene 20 minutes later, the fire was knocked down, he said.
The fire was totally out at 4:30 p.m. Firefighters were working on knocking down any remaining embers and DTE Energy crews arrived at the home at 4:45 p.m. to turn off the gas.
One home to the south of the home that was on fire was also damaged. The heat from the blaze appeared to melt some siding. The home on the north side had aluminum siding and escaped damage, Copeland said.
Ypsilanti Township firefighters were the primary first responders. Ann Arbor, Ypsilanti and Pittsfield Township fire departments all responded to the scene as well. Huron Valley Ambulance crews and the Washtenaw County Sheriff's Office were also providing assistance.
Superior Township Fire Department crews responded to a medical call in Ypsilanti Township while the fire was going on, Copeland said. Superior Township firefighters were providing coverage for the Ypsilanti Township area while crews fought the fire.
The cause of the fire is still under investigation.
Kyle Feldscher covers cops and courts for AnnArbor.com. He can be reached at kylefeldscher@annarbor.com or you can follow him on Twitter.