Posted on
Thu, Sep 5, 2013 : 5:13 p.m.
New retiree insurance plan could save Ypsilanti up to $140,000 annually
By Tom Perkins
The city of Ypsilanti will soon offer some of its retirees a health care plan that could save it around $140,000 annually.
By switching eligible retirees from Medicare A and B plans to the Blue Cross Blue Shield Medicare Advantage plan, the city could save $11,700 per month.
But the level of savings is subject to several variables, including the number of retirees' spouses who sign up for the new plan, the level of new taxes the city must pay for the Affordable Health Care Act and the cost of prescription insurance.
Still, City Manager Ralph Lange says the city is likely to realize substantial savings.
"The total impact is hard to determine but it looks very likely it could be a significant saving," Lange said. "I think that this would be very important and there are some pretty big numbers there."
Payments for retirees' insurance costs come from the city's general fund and a police and fire pension millage that residents fund and has ballooned in recent years. Lange pointed out that if nothing changed, the $140,000 in savings is equal to around a half mill. A mill generates approximately $300,000 in Ypsilanti.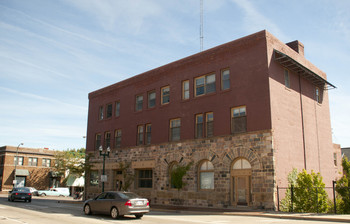 Tom Perkins | For AnnArbor.com
The city is projecting insolvency within five years, and the new insurance plan, coupled with projected savings from a proposed switch to LED lighting, have the potential to save the city in the neighborhood of $200,000 to $250,000 annually.
"It's not like we're only saving nickels and dimes," Lange said.
Still, the city doesn't know what it will pay for its prescription costs, and state and federal taxes for the Affordable Health Care Act won't be known until October.
At its Sept. 3 meeting, City Council approved the plan by a 4-1 vote. Council Member Brian Robb voted against it over concerns that savings could be offset by retirees' spouses switching to the new program.
Right now the city pays between $65 and $400 per month for retirees' spouses. Human Resources Director Judi Smith told Council most retirees' spouses receive around $175 to $200 per month. The total cost of paying for spouses could decrease what the city saves, but no one is certain how many spouses would switch from their current plans to the new plan.
On the other hand, the city is projecting a 5- to 15-percent increase in retiree health insurance costs next year. The new Blue Cross Blue Shield Medicare Advantage Plan locks the city in at the new rates from Dec. 1, 2013 through the end of 2014, so it will avoid paying that increase.
"There are no guarantees in life but it's all we have, so we'll give it a shot," Lange said.
Lange highlighted that the new plan has more advantages than drawbacks for retirees. It requires holders to pay a $65 emergency room copay, but reduces a variety of other costs ranging from pneumonia shots to regular office visit copays.
Michele Bolser, the city's insurance broker with Griffin Smalley Wilkerson, said she held two meetings and invited the 51 of 99 retirees who are eligible for the plan, receive city health care and don't take waivers. She said no retirees have objected so far, though only some attended the meetings.
"We had two meetings and they were both positive," she said. "They see what's happening with retiree health care, and they're happy to have it, and we're offering a very robust health care plan still at a similar cost."
Mayor Paul Schreiber underscored that health care and legacy costs are major expenses, and said Lange was hired with the mission of finding these kind of savings.
"There's not just one thing or no home run he can hit. There a number of things the city can do and one of those is reduce the health care costs within the ability we have," Schreiber said. "The bottom line here is we are giving employees roughly equivalent health care - and some cases better health care - and it's just the kind of things the city needs to do."
Tom Perkins is a freelance reporter.