Posted on
Sat, Jun 15, 2013 : 5:59 a.m.
Official: Former Ypsi-Arbor Bowl to be demolished
By Tom Perkins
Tom Perkins | For AnnArbor.com
The owner of the former Ypsi-Arbor Bowl property says the building will soon be torn down.
Ypsilanti Township officials received notification of Troy-based Frankel Associates' intent this week. The property is at the intersection of Washtenaw Avenue and Golfside Drive.
Tom Perkins | For AnnArbor.com
Mike Radzik
, director of the township's office of community standards, said no date has been set and the township will soon be in communication with Frankel to determine one.
On June 6, the township sent Frankel notice of a litany of code violations on the property and asked that it respond to a request to bring the 3.3- acre property up to code or demolish the building within 30 days.
Hard economic times forced the 38,000-square-foot alley to close after 40 years in business in May of 2011 and it has sat vacant since.
Issues range from cosmetic to potentially serious. Cracks are appearing in the masonry and the township asked Frankel for an assessment from a structural engineer.
The windows have been boarded for more than 30 days, which is the limit per township ordinance, and many of those boards are serving as a canvas for graffiti artists. Tall weeds are growing out of the growing number of cracks and potholes in the parking lot, and broken paneling on the building's exterior have been covered with boards.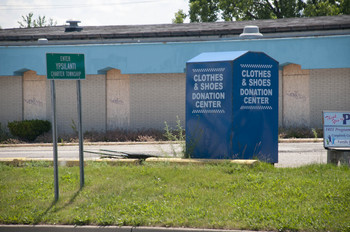 Tom Perkins | For AnnArbor.com
Ypsilanti Township Building Director
Ron Fulton
also expressed concern over the deteriorating light poles in the parking lot.
"The building is classified as blight and the blight has to be abated," Fulton said.
A Frankel representative declined to comment.
The property is being marketed for sale or lease by the Mid America Realty Group. No price is available on the company's website and it's vice president, Adam Goodman, declined to comment.
In June 2012, Frankel told the township a national retailer would present redevelopment plans to the Ypsilanti Township Planning Commission, but the retailer chose a different location.
"We want to see the property brought into code compliance by repairing or demolishing the building and cleaning up the grounds," Radzik said. "If the owner chooses demolition, I hope the property will be well positioned for redevelopment. It is an important gateway to the community with extremely high traffic counts and visibility."
Tom Perkins is a freelance reporter. Contact the AnnArbor.com news desk at news@annarbor.com.