Ypsilanti council work session Thursday focuses on $2M Parkridge Community Center expansion
Posted on Thu, Aug 16, 2012 : 1:03 p.m.
The Ypsilanti City Council will have a work session with the recreation commission Thursday to discuss the proposed $2 million Parkridge Community Center expansion project.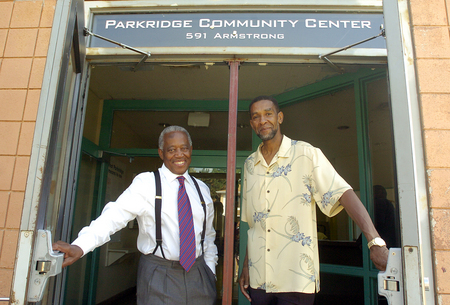 File photo
City Planner Teresa Gillotti said staff members have been working with the newly formed Parkridge Cultural and Job Training Center nonprofit, which is proposing a 10,000- to 12,000-square-foot expansion of the center.
The nonprofit's board likely will consist of John Barfield of the Bartech Group, Rod Jones of Work Skills Corporation, local youth advocate Tommy Frye and Mayor Pro-Tem Lois Richardson and one to three additional members.
All, except Jones, are members of the Parkridge Advisory board, which assisted in providing funding and other support to the Parkridge Community Center in previous years.
The center is currently housed in a 7,000 square foot revitalized building at 591 Armstrong Drive.
The center was designed to actively involve youth in safe and structured activities after school and during summer break. Parkridge offers a wide range of programs and services for community residents.
The expansion would accommodate the addition of an African American Art Museum and a job-training center that would be occupied by Work Skills Corporation.
Work Skills is a nonprofit that provides employment services and education opportunities for at-risk youths. The WSC will be opening a new alternative charter high school, WSC Academy, in Ypsilanti this fall.
To make room for the addition, the Parkridge Cultural and Job Training Center is proposing the purchase of two homes at 761 and 767 Harriet St. directly east of the existing community center.
The partners are requesting that the city of Ypsilanti demolish the existing site structures and do some basic site preparation for the addition. Early projections show it may cost $10,000 to demolish each property.
Gillotti said both of the homeowners have been receptive to the idea.
"They've been in negotiations with this group of folks and they're just finalizing the option letters," Gillotti said. "One is already signed and notarized."
Gillotti said one of the houses was already scheduled for demolition because it's on the city's dangerous building list, but someone actually residents in the other.
"Council will have to decide if they will be willing to move forward with that," Gillotti said.
At the 7 p.m. meeting in City Hall, Gillotti said a presentation will be given with updated information regarding the expansion project. Gillotti is hopeful residents will come out to provide their feedback.
"We're hoping to get feedback from residents," Gillotti said. "Because it is in what is mostly a residential area, this would result in an increase in usage and this meeting is a good way to gauge the community as to how they feel. We want to make sure we're hearing their voices."