Posted on
Mon, Apr 22, 2013 : 5:57 a.m.
Planning consultant: Ypsilanti should consider public plazas and creating a 'festival street'
By Katrease Stafford
Turning Washington Street into a "festival street" and creating public plazas in prominent districts throughout Ypsilanti could further its recent trend toward economic vibrancy, according to a consultant.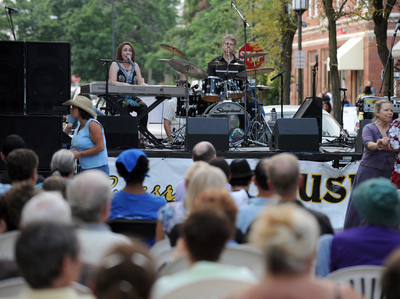 AnnArbor.com file photo
Ian Lockwood, a principal transportation engineer with AECOM, Inc., said Thursday during a Shape Ypsilanti event that the city lacks a public square near the downtown area, aside from the small plaza located next to the Ypsilanti District Library on Michigan Avenue.
Lockwood said turning a portion of Washington Street into a "festival street" could fulfill the downtown's need for a public gathering space that could be used for events, concerts and other purposes. Lockwood said raising the entire street to the same level of the sidewalk is one example of a minor, yet noticeable aesthetic change he's done in other cities to accomplish the festival street look.
Lockwood said the smooth surface would make it easier for wheelchairs and parents pushing strollers to get around the area comfortably, which potentially could increase the foot traffic through the area and spur more patronage at local businesses.
"That's a great opportunity to create a space in your city," Lockwood said. "We heard from a lot of people who would love to have public spaces and plazas."
Lockwood also proposed the city consider creating plazas in the Depot Town and Water Street areas. Lockwood, who has consulted several other municipalities across the country, said creating public spaces can spur development.
"Because of the investment in public space, the businesses are coming back," Lockwood said. "This is the point, it brings vibrancy back."
City Planner Teresa Gillotti said the idea has been discussed for years, but now, the city is considering including it in its master plan revision.
"A lot of people have said they are looking for places to gather at, not just a coffee shop," Gillotti said. "... We want to see if there's some sort of space that we can use to meet the need."
Gillotti said the Depot Town area usually shuts down streets to accommodate events throughout the year, but a dedicated spot for events would be more feasible.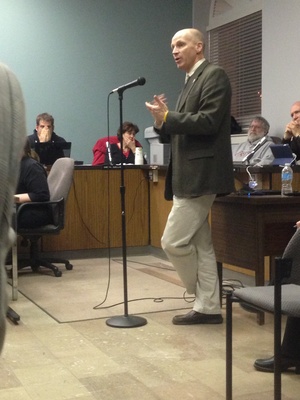 Katrease Stafford | AnnArbor.com
"We also sort of wanted a space that was always available, whether it's for informal stuff, food trucks or gathering spaces," she said.
Gillotti said the Downtown Association of Ypsilanti approached the city about there not being any space for people who want to do events. That's when Washington Street was suggested as a possible location.
One potential use for these public plazas, Gillotti said, could be food trucks similar to Mark's Carts in Ann Arbor.
"In looking at the master plan or zoning ordinance, there was an interest in the community for temporary uses or pop-up uses. A lot of people said they like the idea of food trucks and not just when there's a festival."
Gillotti said the idea seemed to be especially attractive for the summer. Gillotti said she's spoken with officials about possibly designating a spot on Cross Street in front of Eastern Michigan University's campus.
"There's some interest in figuring out a way students can gather," she said. "We're not quite sure where it would go, but it's a conversation we've been having for a long time so its kind of nice to have it be part of the master plan. Maybe when we get to the zoning ordinance we can actually accommodate a certain form or certain place and work out the details."
Katrease Stafford covers Ypsilanti for AnnArbor.com.Reach her at katreasestafford@annarbor.com or 734-623-2548 and follow her on twitter.