Posted on
Sat, Mar 30, 2013 : 5:58 a.m.
Plans surface for new medical marijuana dispensary at former Ypsilanti ice cream truck depot
By Tom Perkins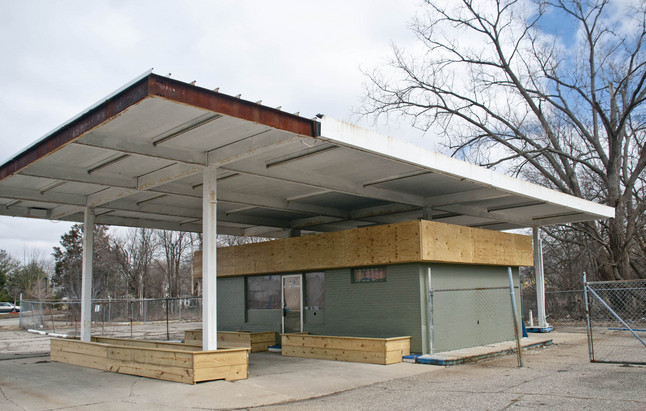 Tom Perkins | For AnnArbor.com
Plans are in the works for a new medical marijuana dispensary at the former Pars Ice Cream ice cream truck depot 539 S. Huron St. just north of Interstate 94 in Ypsilanti.
It's the latest site that could become a medical marijuana facility in the city.
Work already has started on the property, but City Planner Teresa Gillotti said the city asked the group making renovations there to stop until it submitted and received site plan approval, and pulled the proper permits.
The property is owned by Asad Khailany, who owns multiple residential properties throughout the city, Gillotti said. The group planning to open the dispensary would lease from Khailany.
Gillotti said she does not know who is planning to open the dispensary is because they haven't submitted any applications with names. Once paperwork is submitted, it will have to go before the city's planning commission for a vote.
The building, which was originally a gas station before serving as Pars' office, is approximately 540 square feet.
Gillotti didn't say whether she supported a dispensary at the location, but she did point out that the property has been vacant since Pars closed three years ago.
"The property has been underutilized for several years, but it does need full site plan approval and building improvements, so it will take some doing for it to be approved," she said.
The planning commission recently approved site plans for a medical marijuana grow operation at nearby 75 Catherine St., and another group is awaiting site plan approval for a grow operation at 834 Railroad St.
The plans come as Mayor Pro Tem Lois Richardson called for a moratorium on medical marijuana grow facilities and dispensaries opening in the city. The city currently has six dispensaries.
Richardson did not respond to AnnArbor.com requests for comment on her thoughts about a new dispensary on Huron Street.
The Michigan Supreme Court recently ruled that dispensaries were illegal because they weren't addressed in the Medical Marihuana Act. But legislation to allow dispensaries and decriminalize marijuana in Michigan is in the works.
"Sate law is continually changing on this topic and there is case law that is continually developing," Gillotti said. "As it progresses each year, as we do our inspections, we try to make sure (dispensary owners) are meeting city ordinances and licensing standards, and they are subject to state law as well.
"It's a lot for the owners to juggle and they're operating at their own risk."
Tom Perkins is a freelance reporter. Reach the AnnArbor.com news desk at news@annarbor.com.