Posted on
Sat, Mar 16, 2013 : 5:58 a.m.
Restaurant proposed for ex-Pinter's Flowerland on Washtenaw
By Katrease Stafford
The city of Ypsilanti could soon be home to a new sit-down, carryout restaurant in the former Pinter's Flowerland building on Washtenaw Avenue.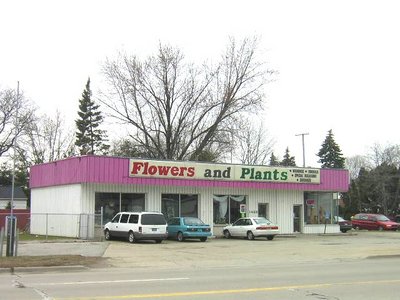 Courtesy Ypsilanti
Mohamad Issa, co-founder of Global Educational Excellence that oversees some charter schools in Washtenaw County, has submitted a site plan to the city to renovate the building and transform it into a restaurant.
Issa could not be reached for comment and the site plan doesn't state what sort of restaurant Issa is seeking to open. The Issa family also founded the Ahmo's chain, which now includes three restaurants in Ann Arbor and one in Adrian.
The 2,780-square-foot building is on the southeast corner of Washtenaw Avenue and Owendale Street, and sits on about .34 acres of land.
The building's assessed value is $90,300, making its market value $180,600. Robert Pinter purchased the building in 1991 for $217,000 from Gary Miano.
City records still show Pinter as the owner of the building and it is unclear whether Issa has purchased the property from Pinter. Pinter still has other locations within southeastern Michigan including one in Belleville at 6830 Rawsonville Road.
Issa is proposing turning the building into a 50-seat restaurant and adding additional landscaping to the front yard, adding nine parking spaces and an outdoor seating area.
The property is zoned B1, neighborhood business, which allows sit-down restaurants with fifty or fewer seats as a permitted use, and sit-down restaurants with more than 50 seats as a special use, provided they have access to a major thoroughfare.
City staff are recommending the plan be tabled until Issa is able to address some issues.
The staff wants Issa to consider adding bicycle parking, removing the curb cut on Owendale and replacing it with a barrier curb and landscaping as part of the project, as well as other engineering changes.
The curb cut does not meet access standard requirements due to the proximity to Washtenaw Avenue, according to staff.
"The site faces extensive dimensional constraints, due to the siting of the existing building, the size and orientation of the lot, and the spatial requirements of the landscaping and parking ordinances, as well as stormwater control," wrote assistant planner Bonnie Wessler.
"This site plan is an excellent attempt to work within those constraints, however, both parking and stormwater handling will require significant alteration to conform to the ordinance."
The planning commission will consider Issa's site plan at 7 p.m. Wednesday at the Ypsilanti City Hall.
Katrease Stafford covers Ypsilanti for AnnArbor.com.Reach her at katreasestafford@annarbor.com or 734-623-2548 and follow her on twitter.