Posted on
Thu, Jun 27, 2013 : 3:40 p.m.
Police arrest 2nd suspect in armed robbery outside Ypsilanti High School
By John Counts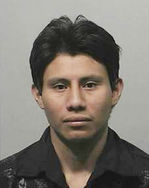 Courtesy of Washtenaw County Jail
Two men accused of beating and robbing a man outside Ypsilanti High School in April are now in custody, police said.
A 31-year-old Ypsilanti Township man was arrested Thursday in connection with a brutal assault that left a 36-year-old man unable to move all night on the school's grounds, Sgt. Geoff Fox with the Washtenaw County Sheriff's Office said.
The man could face charges of assault with intent to do great bodily harm and armed robbery. He will be named upon arraignment, which will likely come before the end of the week.
The second suspect, Maynor Oliverio Lopez-Requiec, 24, had his case adjourned until July 17 when he appeared Wednesday in the Washtenaw County Trial Court. He is charged with assault with intent to murder, armed robbery and carrying a weapon with unlawful intent, according to court records.
The two men are accused of being in a group of three or four men who approached the 36-year-old Ypsilanti Township man around 10 p.m. April 23 near Ypsilanti High School, located 2095 Packard Road.
"One of the subjects was possibility carrying a bat, or some sort of other object," Fox said.
Lopez-Requiec is accused of striking the man with the object, Fox said. The victim told police he then fell to the ground and was kicked in the face and robbed of his wallet and cash. The suspects then fled.
"He attempted to get up, but he couldn't due to the severe head wound," Fox said about the victim. The man laid there overnight.
He was discovered in the morning by someone and taken to the hospital in critical condition from the head injuries and hypothermia, Fox said.
The victim knew some of the suspects, including Lopez-Requiec, who was arrested the next day and arraigned April 26.
Judge Archie Brown granted Lopez-Requiec, who speaks Spanish, an adjournment Wednesday due to translation difficulties. Investigators and attorneys have said the language barrier has created difficulties interviewing both Lopez-Requiec and the suspect arrested Thursday, who also speaks Spanish.
"I'm concerned if Mr. Lopez understands what's going on," Lopez-Requiec's court-appointed attorney, Erika Julien, told Brown when requesting the adjournment Wednesday. "This case is still unfolding."
She was granted a translator and time for at least two meetings in jail to speak with her client.
Both suspects are living in the country illegally and face deportation to Guatemala whether convicted or not, officials said.
Lopez-Requiec remains in the Washtenaw County Jail on a $40,000 cash or surety bond.
John Counts covers cops and courts for AnnArbor.com. He can be reached at johncounts@annarbor.com or you can follow him on Twitter.