Posted on
Sun, Mar 20, 2011 : 12:02 p.m.
Puzzled? Ypsilanti teacher has the answers
By Emma Jackson
EDITOR'S NOTE: This story was contributed by Emma Jackson, the public relations director for Ypsilanti Public Schools.
James Tuttle picked up the habit of solving crossword puzzles when he was studying engineering at the University of Michigan. Now the Ypsilanti High School math teacher is creating the brainteasers for the New York Times.
Tuttle started solving puzzles in the Los Angeles Times before graduating to the puzzles in the New York Times, considered to be the epitome of newspaper crossword puzzles. He began to wonder what it would take to create one of the premier puzzles.
"When I was in college I didn't think much about someone composing the puzzles, but one day I casually said to myself, 'I wonder what it takes to put one together?' I was home this past summer with my newborn daughter and I had more time to think about creating one," Tuttle said.
The brain exercise paid off and on Monday, Jan. 10, Tuttle had his first puzzle byline in the New York Times.
While many folks would have heralded their newfound success, Tuttle is pretty low key about the accomplishment. Tuttle's wife, Angela Walker, is a local attorney and some of her colleagues regularly work the Times' puzzle. When they saw his byline, they presumed it was someone that happened to have the same name.
YHS counselor Dennis Brunzell, a professed puzzle aficionado who tries to "one up" Tuttle, agrees that Tuttle doesn't toot his own horn.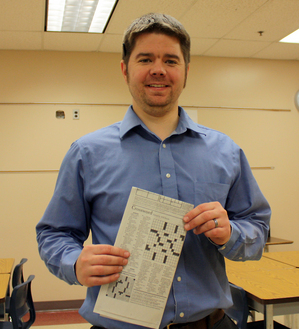 Photo courtesy of Ypsilanti Schools
"James is very humble about it, but I was impressed. You have to be pretty darn smart to put one of those together," Brunzell said. "I have immense respect for the man, because it's one thing to do a puzzle and it's another to create one."
Tuttle explains that he selected the theme, "The Bouncing Ball" and went about the process of constructing the puzzle, incorporating the theme in circles contained in other clues (taking on the appearance of a the path of a bouncing ball). An assumption could be made that language buffs are drawn to crossword puzzles but Tuttle says not so.
"There is a whole language behind puzzles, but constructing them is very mathematical," Tuttle said. "Once you pick a theme you have to make it fit into a 15x15 inch format that has to be symmetrical."
Already Tuttle has had a second puzzle purchased by the Times and he will be notified prior to its publication. He said while there is financial compensation for the puzzles he's not in it for the cash.
"I would almost do this just for the notoriety. Money was the icing on the cake."
See James Tuttle's puzzle at: www.xwordinfo.com/Crossword?date=1/10/2011