Posted on
Wed, Feb 29, 2012 : 5:57 a.m.
Q&A with 'Leapling' Peter Fletcher on his so-called 20th birthday
By Lucy Ann Lance
Leaplings like Peter Fletcher only get to properly celebrate their birthday every four years. Here's his take on leap years and his connection to the Lindbergh family and Ann Arbor astronaut Jack Lousma.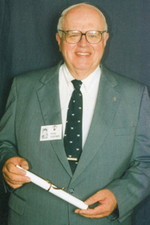 Lucy Ann:
We are saluting Peter Fletcher of Ypsilanti, the president of the Credit Bureau of Ypsilanti, because it is his birthday. He doesn't get to celebrate it very often. So how old are you in Leap Years, sir?
Fletcher: Now this will be my 20th birthday which means, of course, that I've been on Earth 80 years, but have had only 20 birthdays to celebrate and of course, it's way too much fun to try to explain this to the kids because they just can't understand. Wait a minute, they can see by my physical appearance I'm certainly not 20.
Dean: Hey, congratulations. In four years you can drink.
Fletcher: At least I can vote now. Oh my, and my friends, it's been so much fun because the birthday creates all kinds of dilemmas for the government, for people who go, "What should you do on the off years, you know, when you don't have one?" Well, that's a very simple answer. I was born in February so I celebrate it on February the 28th. I was born the day after February 28th so I celebrate March 1st. We have two celebrations!
Lucy Ann: At what age were you when all of this dawned on you?
Fletcher: That's an excellent question, Lucy Ann, because when I was 4 years old and it was my first so-called birthday my parents had a party and I couldn't quite figure out, what's all this fuss? Well, then four years later, my eighth, there was another fuss. There's something that doesn't quite fit the normal pattern here and, of course, from then on, it just got more and more complex.
Listen to the whole interview here: fletcher-leapling.mp3
Lucy Ann Lance & Dean Erskine co-own Lance & Erskine Communications, which produces "The Lucy Ann Lance Business Insider" (M-F, 8 a.m.-11 a.m.) and "The Lucy Ann Lance Show" (Saturdays, 9 a.m.-noon) on 1290 WLBY. The programs are live streamed at www.1290WLBY.com, and podcast on www.lucyannlance.com, including the unedited audio version of the above interview.