Posted on
Wed, Aug 21, 2013 : 4:44 p.m.
QVC's 'In the Kitchen with David' to feature live feed from Haab's Wednesday night
By Chelsea Hoedl
QVC's 'In the Kitchen with David' will feature a live feed from Ypsilanti's historic Haab's restaurant Wednesday night ahead of a live broadcast in Ypsilanti Sunday.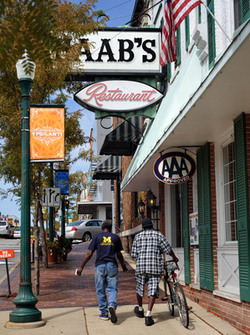 Associate Producer and co-host of the show, Mary DeAngelis, is on site to talk with restaurant patrons, employees and owners David and Mike Kabat.
LIve scenes from Haab's will be aired at 8 p.m., 9:10 p.m. and just before the show ends at 10 p.m., Mike said.
Show host David Venable will be at the Ypsilanti Farmer's Market from 11 a.m. to 1 p.m. on Saturday to sign his cookbook, 'In the Kitchen with David: Comfort Foods That Take You Home', before shooting live from Riverside Park, 6 W. Cross St., on Sunday.
The live broadcast at noon Sunday of 'In the Kitchen with David' will feature Haab's, winner of the show's June Road Trip Contest, and give viewers a taste of Ypsilanti living.
"The tents are already up for the construction of the set and a 60-foot marquee is up," Mike said. "There are about 100 people from QVC setting up for Sunday and getting everything ready. It's pretty exciting."
Chelsea Hoedl is an intern reporter for AnnArbor.com. She can be reached at choedl@mlive.com.