Design team behind proposed $12M Ypsilanti recreation center to host public forums Thursday
Posted on Wed, Sep 26, 2012 : 5:35 p.m.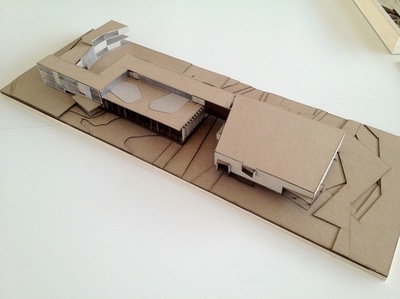 Courtesy of Parks and Recreation

The University of Michigan design team behind the proposed $12 million Water Street Eastside Recreation Center in Ypsilanti will be giving two presentations Thursday seeking public input regarding the project.

Two presentations have been scheduled for public input regarding the project, both on Thursday at SPARK East, 215 W. Michigan in downtown. The first presentation will be at 4 p.m., and the second will begin at 7 p.m.

The U-M student design team, led by three professors from U-M's Taubman College of Architecture and Urban Planning, have put together two designs after working throughout the summer on the concept.

The project still is in the early stages of development, and officials expect construction to begin in late 2014 or early 2015. The center would occupy eight of the 38 acres on Water Street.

U-M architecture professor Jen Maigret, part of the design team, said she believes the center will generate interest in the Water Street property.

"What's going to create the most amount of interest is the idea that the city and county have come together to oversee the creation of a rec center that serves as a civic anchor," Maigret said. "I suspect those will be some of the things to talk about tomorrow."

If the project is approved, it would be a three-way partnership among the city, the Washtenaw County Parks and Recreation department and the Ann Arbor YMCA.

Parks and Recreation would likely enter into a 99-year lease with the city for the land. The YMCA would oversee the day-to-day operations.

Washtenaw County Parks and Recreation Director Bob Tetens told AnnArbor.com the county wanted to be assured it has the cash flow to fund the project.

"We've got some (funds) set aside, but we would approach the board of commissioners to finance part two," Tetens said. "We are looking for any and all funding sources."

Maigret said Thursday's event will allow the team to walk through some of what the process has been and gather public feedback.

"We're excited to hear what people have to say," Maigret said. "... The rec center has a role in setting the tone for development to come. The Water Street redevelopment site has a history and they've been looking for ideas to spark interest."

The city has long sought development possibilities for Water Street. In 2010, the City Council unanimously rejected a proposal from Indiana-based Bravokilo, which owns the Burger King on Michigan Avenue near Ecorse Road, to build a new restaurant on one acre of the 38-acre site.

The center would be more than 60,000 square feet and would be much like the Ann Arbor Meri Lou Murray Recreation Center that opened in 1991.