Posted on
Sun, Oct 23, 2011 : 9:05 a.m.
Redesigned Ypsilanti High School focused on student achievement
By Janet Miller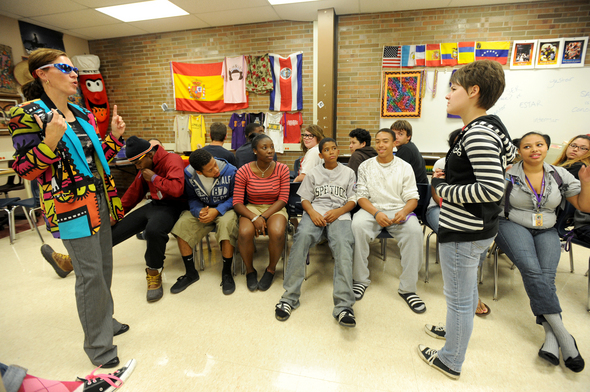 Angela J. Cesere | AnnArbor.com
For Ypsilanti High School, bigger isn't better.
When the 775 ninth through 12th graders returned to class last month, it was to a markedly different school: YHS had been divided — physically and academically — into two smaller schools within the school, the Global Leadership and Public Policy Academy and the Improvisational Academy.
With the help of educational consultants EdWorks, the district redesigned the high school, creating two smaller learning communities. The traditional 55-minute class periods were replaced by 90-minute classes organized around a block schedule. And expectations for students and teachers were raised, said new Principal Robert Belous, whose career history includes working with poorly performing schools. EdWorks will continue to work with teachers throughout the school year.
The days of tardy and unprepared students, students wandering the halls between classes and teachers without lesson plans are over, said Belous. "We're changing expectations and we've had conversations with students, parents and staff. Students are here to get an education."
As one of the state's Persistently Low Achieving Schools (PLA), the Ypsilanti School District was required to submit and implement a plan to turn the high school around. The plan had to address not only academics but also the learning environment.
Not everyone is open to change. The district projected high school enrollment at 840, but enrollment fell 65 students short. District officials have said the changes at YHS could have scared some families away.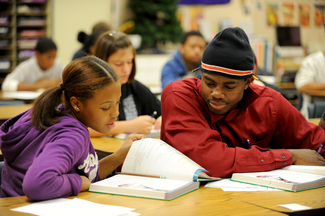 Angela J. Cesere | AnnArbor.com
Many of the changes address school environment: Penalties for fighting are now consistent, students said. Last year, when YHS saw a revolving door of principals - three in the course of the school year - the penalty for school fights kept changing, said
LaVonte Davis
, a junior. "At first it was 10 days (suspension) and then it was 60. Now, we all know it's a fine and court." The tough, clear policy has cut down on fights, Davis said.
Expectations also are higher, Spanish teacher Barbara Martin said about the planning committee for the redesigned high school. "We have raised the bar for students: You will turn in your homework and you will not get credit if you've only done 49 percent any more," she said.
Raised expectations are not just for students, they have been raised for teachers, too, she said. In her seven years teaching at YHS, Martin said she was never asked to submit a lesson plan. Until now. Teachers are now required to submit weekly lesson plans to the high school administration. That's good news, she said.
It's already shown results, students said. "I'm learning more," said Emily Bearman, a senior. "And it's not just busy work. Last year, we saw a lot of movies and were told to take notes." Not so this year, she said. There have been no movies.
The new block schedule with 90-minute classes has meant more time for teaching, Belous said. With 55-minute classes, the first five to seven minutes were spent bringing the class to order, with the next few minutes spent on taking attendance. That left less than 40 minutes for actual teaching, Belous said.
But the biggest change was dividing the school into two academies, allowing teachers to get to know students personally.
"Teachers need to get to know more than just their student's names," Belous said. "They need to know their likes, what makes them tick, what's happening at home. The staff and administration greet the kids as they get off the bus, we're there between classes and staff volunteers to eat their lunch with students, not to sit and correct them but to have a conversation. We let them know we are there to help them succeed, that we are more than just teachers."
There are 18 teachers in each academy, which act like two teams and help create more individualized attention, Belous said. "There's a strong research base that it's better when there are smaller groups of individuals responsible for smaller groups of students. If there's an absence, everyone knows the student is absent. If a student isn't doing well, everyone knows the student isn't doing well."
The same curriculum is delivered in both academies, with Global Leadership focused through a worldview lens, Martin said, and the Improvisational Academy leaning toward the arts and problem solving. Global Learning is located on the lower level, with Improvisational on the main floor. Seniors are not part of either academy, but attend classes in both. Still, the academy model isn't fully developed, and much of the curriculum remains the same in both, Belous said. "The academies are not as pure as we want," he said.
Eventually, Belous would like to give students a third option and add an ROTC academy to the high school. YHS has 200 students in its ROTC program, making it one of the largest in the area, Belous. While an ROTC would offer the same core curriculum, it would have a more military culture and structure, he said. "For now, it's a long-term pipe dream."