Posted on
Mon, Aug 26, 2013 : 5:57 a.m.
Redevelopment, street system overhaul and job creation highlights of proposed Ypsilanti master plan
By Tom Perkins
Ypsilanti's proposed new master plan is complete.
Among the highlights are proposals are an end to the one-way street network; a reconfiguration of the Washtenaw Avenue and Cross Street intersection; a blueprint for Water Street development; improved zoning; ideas to spur job growth; the creation of "festival streets" and plazas; the redevelopment of industrial zones into either "job centers" or residential zones and much more.
On Aug. 21, the Ypsilanti Planning Commission and Ypsilanti City Council held a joint committee in which City Planner Teresa Gillotti and planning consultant Megan Masson-Minock of ENP & Associates presented the plan.
Planning officials will now present the proposed plan to the public over the next several months before the Planning Commission takes it up for approval at its October meeting.
When the process began a nearly year ago, Gillotti was instructed to provide a different document than is standard for master plans, which are required by state law.
"We asked you for something different and outside-the-box and I think that's what you gave us," Planning Commission Chair Rod Johnson said.
Gillotti said those working on the proposed plan recognize that master plans have a "shelf life" because changes in the community or market cannot be predicted 10 to 20 years out. This plan was designed to be flexible and serve as a guide to decision making when the master plan doesn't address a specific situation a decade or two later, Gillotti said. Changes to the street system
One of the most talked-about components of the plan is eliminating Ypsilanti's one-way roads and changing them into two-way streets.
Gillotti said the purpose is to provide better access to the city for motorists and slow traffic, which makes certain areas - like West Cross Street near EMU - more friendly to pedestrians.
"One-way streets are designed to flow car traffic through a city or to keep the flow steady and efficient," Gillotti said. "Two-way streets give better access to people trying to get to actual destinations in the city."
What would be a one-block trip in many parts of downtown turns into a four to five-block trip because of one-way streets. Gillotti says she hears that people will skip destinations because of that, and the city's aim is to keep people in the downtown area.
"Ann Arbor did this with State Street, which was one-way a long time ago," Gillotti said. "They made it two-way, and it's a perfect example of such a change slowing down traffic on a street, creating a better climate for business and pedestrians and really creating a better destination."
The plan presents rough ideas and designs for roundabouts at the intersection of Hamilton Street, Huron Street and Interstate 94; Michigan Avenue and Congress Street; and at Michigan Avenue and River Street.
The Michigan Avenue roundabouts would be designed to help slow traffic through downtown.
The reconfiguration of the Washtenaw Avenue and Cross Street intersection into two, two-way streets that would serve as a pedestrian-friendly "front door" to Eastern Michigan University is another major piece of the street overhaul.
Road reconfigurations were also suggested for Leforge Road and Huron River Drive just north of EMU, which is awkward for the many pedestrians traveling between campus and the city and could serve as a more lively commercial area.
On the southside, a road diet and zoning changes are proposed for Harriet Street, which planners are hoping can be revived as a commercial center for the dense neighborhoods in that area.
Though the idea of switching roads to two-way streets in phases was floated, several council members and planners didn't believe that would be possible.
"It would be difficult to unravel it one street at a time," Council Member Pete Murdock said. "We have to have a plan to do the whole thing. We'd have to find the wherewithal to come up with sketches and designs to take to MDOT and then find the money to (switch the roads)," he said.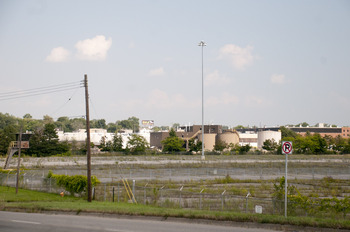 Tom Perkins | For AnnArbor.com
The proposed master plan includes a number of other fun ideas for creating a pedestrian friendly environment in the downtown districts, including a plaza around the Ypsilanti Freighthouse once a planned commuter train begins stopping there.
It also proposes the creation of "festival streets" along Washington Street between Michigan Avenue and Pearl Street; and at Cross Street and River Street in Depot Town. Festival streets' sidewalks and curbs are flush with the road and can easily be closed to offer a better environment for pedestrians during festivals. Similarly, the plan proposes raising Michigan Avenue in downtown to be level with the sidewalks to provide the same access.
"It's another approach to try to make the city more walkable and increase vitality in downtown districts," Gillotti said. "It's more accessible this way, and there's easier flow from street to businesses."
Redevelopment
The proposed plan offers a design for Water Street that would create a downtown atmosphere throughout the 38-acre site and including requiring sidewalks, on-street parking and buildings designed for multiple uses. The buildings would be required to have large front windows and parking lots in the rear, and blocks would be short - limited to a 1,200-foot perimeter.
"It would look and feel like a downtown street," said Masson-Minnock.
Another key feature of the master plan is a change to form-based zoning. While current zoning can change even mid-block in some areas for no obvious reason, form-based zoning would provide consistent zoning throughout major corridors and different neighborhoods.
For example, the corridor running north on North Huron Street between Michigan Avenue and Cross Street and north on Cross Street to Pearl Street is what planners called a historic district corridor.
It is mostly comprised of historic houses that are used for single-family housing or small businesses. While current zoning is patchy there, form-based zoning would provide a contiguous zone where the buildings and lots are similar.
Gillotti said form-based zoning is advantageous to an older, built city because traditional zoning limits uses in areas where there needs to be multiple uses in a home or building. It also helps keep housing more uniform in neighborhoods throughout the city.
Job Creation
The proposed plan also includes ideas designed to spur job growth. The West Industrial Park at South Mansfield Street and Michigan Avenue could be zoned to allow smaller lots, which would allow parcel owners to split their lots and fit more businesses there.
The same type of idea is proposed for the Angstrom site, which is the former Visteon plant.
New zoning would allow for different types of businesses - be it commercial, manufacturing or industrial - that would create more of a "job center" than a traditional business park or industrial park.
The city wants to foster small, locally-owned craft businesses, which are an increasingly integral part of the Michigan economy, through economic incentives.
"We could keep encouraging those small businesses to move here. We have small spaces available, and they gravitate to Ypsi because we are open-minded, so we want to keep attracting them and having them growing and expanding here," Gillotti said.
The plan also suggests possibly rezoning the former MotorWheel and current Bay Logistics site north of Depot Town, which Gillotti said she expects will see more housing development pressure once the commuter train is running and EMU keeps growing.
Murdock said he liked the idea but didn't want the plan to lock the city into transforming its few remaining industrial zones into residential zones.
"If someone wants to build a steel manufacturing plant there, I'm fine with that," he said.
But one of the advantages of the plan is its flexibility, GIllotti said.
Ypsilanti's 'Guiding Values'
"We're looking ahead at where we're going to be in 10 to 20 years, but if the plan doesn't totally fit, then can fall back on guiding values to help you through the major decisions that are being made," Minock said.
The "guiding values" that staff, elected officials and planning commissioners can look to in the future sum up the kind of community Ypsilanti residents told planners during input sessions it sees itself as and strives to be.
Per public input, the most important value when considering a decision is safety. Cultural and economic diversity and the city's sustainability are among its biggest approaches to functioning.
The city sees itself as friendly to business, especially the creative economy and green businesses; and the city strives to offer a complete transportation system with options for pedestrians, bicyclists, motorists and those utilizing public transportation.
A rubric with a series of questions asking whether or not a proposed change - a rezoning for example, or building a roundabout - fits in with serves as a guide in the decision making process.
"Unlike other master plans, we tried to make ours while being more aware that we can't predict the future," Gillottis said. At the point it's less releveant still have guiding values determine how to provide future requests for rezonings at that point things can evaluated using guiding values.
Tom Perkins is a freelance reporter. Contact the AnnArbor.com news desk at news@annarbor.com.