Posted on
Thu, Dec 13, 2012 : 5:57 a.m.
Crews clear site of fatal 2011 house fire
By Tom Perkins
Tom Perkins | For AnnArbor.com
The remains of a home where a fire claimed the life of an 85-year-old woman have been cleared from the 5800 block of Stony Creek Road in Ypsilanti Township.
The damaged home has sat vacant since it burned to a total loss in a blaze sparked by an electrical outlet on Feb. 3, 2011.
The fire also severely burned the 86-year-old husband of the woman killed in the fire. He suffered from dementia and spent at least a month in the hospital recovering from his burns. He has since passed away.
Township Building Inspector Ron Fulton said the delay in the home's demolition was caused by a misunderstanding over who owned the property.
The couple's two sons, who did not live in the home and were not there at the time of the fire, were unaware that their father had quitclaimed the home to them in November of 2010 - four months before the fire.
The father never told his sons what he had done, so they thought they had to probate the house and were waiting on court paperwork to take control of the estate. When a title search was finally conducted several months ago, the quitclaim was discovered.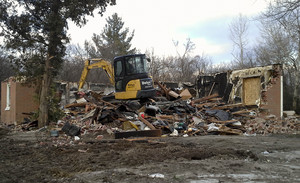 Tom Perkins | For AnnArbor.com
"Mom and dad did a pretty good thing for their sons," Fulton said. "Once they learned they owned the house and they had a legal right to it, they hired a contractor and they are working on clearing it now."
Fulton said the home won't be rebuilt and the family plans to market the land.
Police officials said woman was in a back bedroom when the fire broke out. Two Ypsilanti Township firefighters attempted CPR, but she was pronounced dead at the scene. It's not clear where the man was inside the home.
Tom Perkins is a freelance reporter for AnnArbor.com.