Posted on
Sat, Dec 4, 2010 : 2:37 p.m.
Rev. S.L. Roberson, longtime Ypsilanti minister, dies at age 90
By Lisa Carolin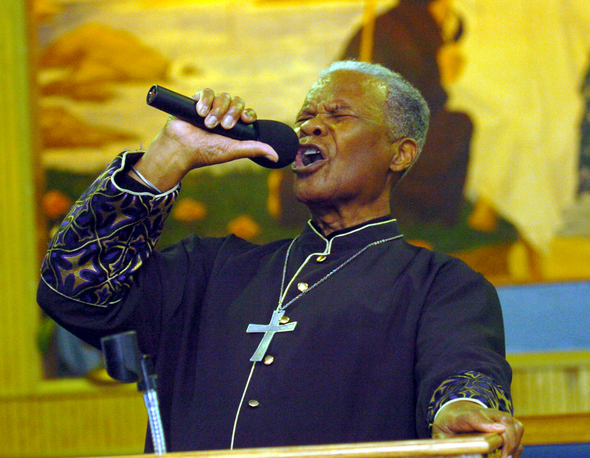 File photo | AnnArbor.com
Dr. S.L. Roberson was a man of God, but he never was one to shy away from danger.
A former Marine who served at Okinawa and Iwo Jima during World War II, Roberson twice interjected himself into hostage situations that could have easily cost him his life during the 1970s at the Ford Motor Co. plant in Ypsilanti.
Roberson, the longtime pastor of Metropolitan Memorial Baptist Church in Ypsilanti and a well-known community activist, died Saturday at his home at age 90.
During his ministry, which lasted well into his 80s, Roberson was chaplain to the Washtenaw County Sheriff's Department and was an active member of both the American Baptist Convention and the National Baptist Convention. He was also a member of the board of directors of the local chapter of the National Association for the Advancement of Colored People (NAACP).
Roberson (the initials S.L. are his given name) was born in Moundville, Ala., on March 24, 1920, the eldest of six children born to the Rev. Garther Roberson Sr. and Estella Sears Roberson. When he was 3, the family moved to Ypsilanti, and he graduated from Ypsilanti High School in 1937.
Roberson entered the Marines in 1942. After witnessing much carnage, including the wounding of a close friend, Roberson later recalled that he promised the Lord that if he got home in one piece, he'd enter the ministry. When he returned home two-and-a-half years later, he enrolled in Detroit Bible Institute and graduated in 1949. He apprenticed under his father at the Second Baptist Church.
Roberson worked at Ford Motor beginning in 1947 as an hourly employee and worked his way into the industrial relations division eventually becoming personnel manager of the Ypsilanti Plant. During that time, in 1954, he began his own ministry at the Metropolitan Memorial Baptist Church in Ypsilanti.
Talk was his gift, and in one example in 1970, he convinced members of the militant African-American political and social action group the Black Panthers, not to burn downtown buildings in Ypsilanti, according to a 2004 profile in the Ann Arbor News. He told them, "You have your rage, but if you burn one blade of grass, you're done." Nothing burned.
In 1975, Roberon talked a gun away from a 27-year-old worker suspected or murdering the plant physician and wounding two other Ford employees.
Two years later, Robertson talked another gunman into accepting him as a replacement hostage during another incident at the plant. The talk went back and forth for a couple of hours until police were able to distract the gunman and tackle him unharmed.
In 2007, Roberson delivered a blessing to open proceedings in the U.S. House of Representatives, thanks to an invitation from Rep. John Dingell, D-Dearborn, who called Roberson, "a good, wise and decent man."
Funeral arrangements are pending through the C&H Community Home for Funerals Lucille's Memorial Chapel, in Ypsilanti.