Posted on
Sun, Sep 8, 2013 : 5:58 a.m.
Russian Ballet School grows in new Depot Town studio
By Tom Perkins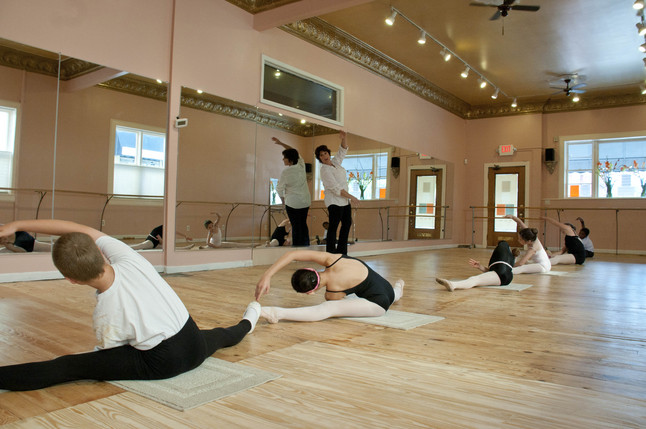 Tom Perkins | For AnnArbor.com
On a recent afternoon, Kathy Scharp's 9- and 10-year old ballet students worked at the barre, performing strengthening and stretching exercises.
The girls in the class are learning pointe, while the boys are learning jumps and preparations for turns.
It's one of the first serious classes Scharp offers young students at the Russian Ballet Theater School
"That's a great class. It's where they kind of start to pour it on," Scharp said.
Several months ago, she wouldn't have been able to offer the class as her available time was limited in the studio she rented from the Riverside Arts Center.
Now, with a space where she can hang her own sign at 44 E. Cross St., the Russian Ballet Theater School is poised to continue growing. The new digs are a work in progress, but the space provides Scharp with what she needs most — an economical place to call her own with the option to add as many classes as she can fit into a day.
"This is a perfect space on the first floor and it's just me. I have complete control and I can add classes whenever I want, which I've already done," says Scharp, who opened the new studio on July 8 but has mostly kept the curtains closed as she gets set up. "All my students love the space; we've got 12-foot ceilings. It's just really cool."
Scharp partly attributed the Russian Ballet School's success to her mission statement. She tries to take the fear out of ballet and provide a comfortable place for those who have always wanted to try it but never have.
"I made ballet accessible. That's one thing I wanted to do and that was a clear goal. I want to do something anyone is comfortable trying," she says. "It's not competitive; it's your personal best. I'm real disciplined, but it's a real loving discipline."
Over the last year and a half, the number of students at the Russian Ballet School grew from a dozen to 70. Around half of those students are taking more than one class, and they range in age from 5 to 40 years old.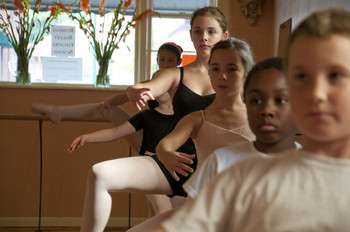 Tom Perkins | For AnnArbor.com
While Scharp offered classes twice a week when the business launched in late 2010 and early 2011, the Russian Ballet School is now operating five days a week, and the schedule includes more offerings for young children.
In the new space, Scharp holds a Bolshoi-Kirov exercise class for adults, which involves weight bearing and non-weight bearing stretches based in Russian ballet that strengthens and tones bodies.
The Russian style, along with the Italian cecchetti method of ballet, is the most popular form of the art in Michigan, Scharp said. She has trained with well-known names in the Russian Ballet world, like Juergen Schneider and Janina Cunova.
Her career highlights include the lead in "Carmen"; Titania and Helena in "A Midsummer Night's Dream"; Coffee in "The Nutcracker"; the Snow Queen in "The Nutcracke"r; and roles in several original works.
While the Russian Ballet School is mostly still a one-woman operation, Scharp has several assistants in training and several young teenagers helping teach the 5- to 6-year-old age group.
"They love it. They started out young, and they now are helping others who were like them," she said.
Scharp, who is an Ypsilanti-native, searched outside of the city when it came time to look for a studio, but she said she knew she would remain here.
For starters, the school has developed a synergy with Scharp's mother's Russian-based ballet school, the Ann Arbor Ballet Theatre, in Ann Arbor. Students who miss classes at one school can make them up at the other, and Scharp said there is a definite business advantage to the family having schools in two Washtenaw County locations.
"It really meant something to me to stay in Ypsi, and logistics-wise it made sense. We widened our net to include more people, and I just have a real soft spot for Ypsilanti," she said.
Depot Town became an attractive option for the amount of foot traffic and interest Scharp expects to generate once she has her logo on a sign outside the shop. The aesthetics were also better in Depot Town than in some of the strip mall options elsewhere, she said.
"It was important to me to have a community feeling, and in Depot Town there's plenty of stuff within a walking distance. It meant something to me to be part of a community rather than a place off by myself," she said.
Scharp's students come from as far away as Saint Clair Shores, Canton and Milan, and she said she loves to see the families discover Depot Town.
"I'll see my student's parents with a pizza box from Aubree's and that makes me feel good," she says.
Tom Perkins is a freelance writer for AnnArbor.com. Contact the news desk at news@annarbor.com or 734-623-2572.