Posted on
Mon, May 6, 2013 : 6:59 p.m.
Education secretary in Ypsilanti: Michigan could receive $160M for early childhood education
By Danielle Arndt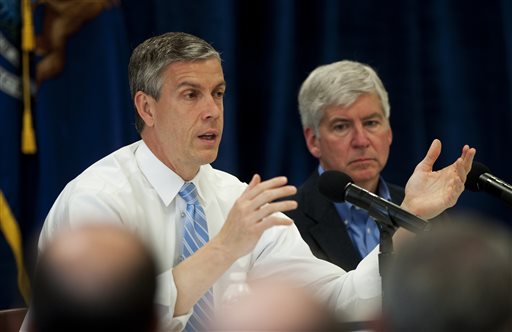 Daniel Brenner | AnnArbor.com
U.S. Secretary of Education Arne Duncan promoted both the human and financial value of a high-quality preschool education Monday in Ypsilanti.
The secretary's stop at the Perry Child Development Center helped kick off the federal government's push to provide incentives for early childhood education nationwide.
Duncan was accompanied by Michigan Gov. Rick Snyder to the Ypsilanti public elementary school. The two served on a panel comprised of mostly board members from the HighScope Educational Research Foundation, which launched the landmark Perry Preschool Study in 1962.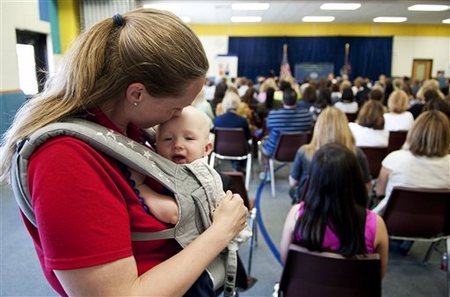 Daniel J. Brenner | AnnArbor.com
HighScope is an international, nonprofit research, development, training and public outreach organization headquartered in Ypsilanti. In the Perry Preschool Study, HighScope's researchers have followed two groups of then-3- and 4-year-olds from their preschool experience into adulthood.
The study, which was last updated in 2005, found that children who attended a high-quality preschool had higher earnings 40 years later and had committed fewer crimes than those who did not attend preschool.
Duncan said early childhood education is a "game-changer" and changes the trajectory of children's lives and success. The federal government, through President Barack Obama's Preschool for All proposal, intends to invest $75 billion over 10 years in states that demonstrate a commitment to early childhood education. Michigan would be eligible for $160 million, Duncan said Monday.
"Taxpayer money we need to take very seriously, these are tough economic times," Duncan said. "The fact that we have a 40-year, almost 50-year longitudinal study of kids coming from Perry Preschool here that demonstrates a 7-to-1 return on investment, that's not something you can ignore. ... So the work done here with the children, with the control group, the longterm study, demonstrates, I think, beyond a shadow of a doubt how important this investment is."
Duncan said there are many examples of high-quality early childhood education programs that exist, and while HighScope certainly is a champion and has done "fantastic work," the federal government does not intend to promote one methodology over the others.
HighScope's preschool program and curriculum take a participatory learning approach. And while Duncan said the federal government would not be supporting or endorsing one method over the others, HighScope President and lead researcher Larry Schweinhart said, "If you want to get what we got, you've got to do what we did.
"You can't say let's do family day care. ... All early childhood development programs are not created equal."
Schweinhart said moving toward quality early childhood programs through regular and ongoing preschool teacher evaluations, assessing effective program implementation and children's progress in preschool programs is something both Snyder and Duncan are committed to. Schweinhart said that's encouraging.
Schweinhart said the foundation is working on another round of the Perry Preschool Study for year 50, collecting further data and taking a much stronger look at health, as the preschool study participants get older.
"This is one of the earliest places that started the whole preschool movement. ... We should be proud it's in Ypsilanti and in Michigan," Snyder said. "The evidence continues to build up about the importance of preschool, so we look forward to really putting it as a positive initiative at the state level. We've got it in the budget this year and want to get rid of our waiting lists (for Michigan's Great Start Readiness Program) for people in need over the next two years.
"It's great to have a partner, such as the federal government and Arne Duncan, looking at how to do programs at the federal level that match what we want to do here as a state."
Duncan's appearance in Ypsilanti was one of three stops he and Snyder made in the Detroit area Monday. They also visited a fifth-grade class at Thirkell Elementary School in Detroit and Brenda Scott Elementary/Middle School, which the state Education Achievement Authority manages. The authority was created to run schools the state classifies as failing.
Danielle Arndt covers K-12 education for AnnArbor.com. Follow her on Twitter @DanielleArndt or email her at daniellearndt@annarbor.com.